WHERE THE RUBBER MEETS THE ROAD; WCSO INTRODUCES NEW CRIME PREVENTION CAR DURING NATIONAL CRIME PREVENTION MONTH
Posted on October 19, 2022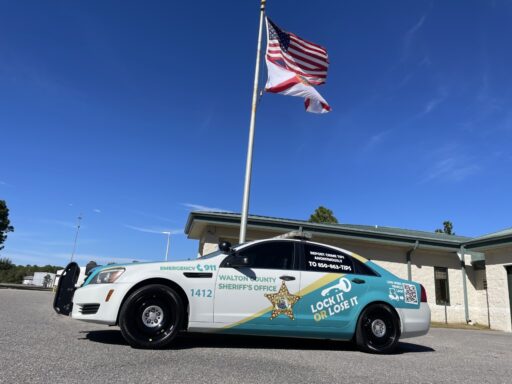 October 19, 2022
WALTON COUNTY, Fla— October is National Crime Prevention Month and the Walton County Sheriff's Office is unveiling a new crime prevention-themed patrol car.
WCSO is proud to introduce the new design which displays crime prevention tips, beach flag safety messaging, a QR code for Low-Speed Vehicle rules of the road, and more!
The vehicle will be hitting the streets primarily in the south end of the county to help educate our transient tourist population but will be used throughout the county for special events, parades, fairs, and community meetings.
One of our biggest goals at Walton County Sheriff's Office is to educate residents and visitors on crime prevention tips to keep them safe and to prevent victims of crime. We are constantly trying to think outside the box to help meet that goal and this is where the rubbers meets the road.
If you see this car cruising around please give it a wave!