Employee Expectations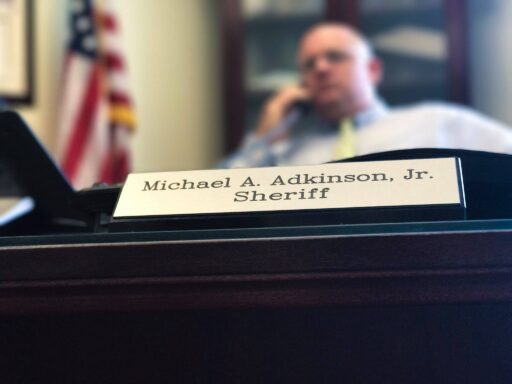 At the Walton County Sheriff's Office, we believe acting as a deputy sheriff is not just a job, but rather a calling. It's a noble profession where you can make a difference. The calling of a deputy sheriff is a profession of service where you are granted a tremendous autonomy and stewardship of the people's authority. You are charged with the gravity of upholding the Constitutional Rights of everyone, not just the ones you like.
With such stewardship come expectations and sacrifices that many have never considered. To put this bluntly, everyone believes they want to be a deputy sheriff – few do it well. Even fewer are willing to accept the self-discipline we are bound by when taking the oath of office.
Please take the time to consider these expectations before pursuing a position as a deputy sheriff at Walton County Sheriff's Office.
Be at work on time. This is not a suggestion.
If you're late, that means someone is covering you. This says that you believe your time is more important than the time of your co-workers.
There will be times you will be called back to work or your days off canceled, due to emergencies. Every effort is made to avoid this. However, the nature of our business dictates this will happen.
We serve those in need. That service does not have a set schedule.
Because you've accrued time off does not mean you take it. Time off is encouraged but will be scheduled based on the needs of the agency.
If you magically call in sick every Friday or whenever you accrue leave it will be addressed.
You will work nights, holidays, and weekends over the course of your career.
Again, we serve those in need and that doesn't always happen Monday through Friday.
You will work areas of the county you may not want to.
While we try to assign zones based on preference your patch will say Walton County, not a specific area.  
This agency is very open to new ideas; however, there is an appropriate time and place to do that.
While we expect and encourage loyal dissent, do not do this in the middle of a call or in public. Approach your chain of command if an issue arises.
Your appearance will demand respect. If not, we will tell you to correct it. Be prepared for duty mentally, physically, and with your equipment in working order.
No, you cannot dye your hair purple or get a spider tattoo on your neck.
Your education and training is your responsibility, not just ours. Yes, we will invest in the best training possible, but you must invest in learning.
Take pride in being the best. Don't wait for someone to hold your hand.  
Take care of your equipment. You're provided the best equipment available and have a responsibility to take care of issued equipment.
You may not keep your personal car clean, but you will take care of ours. Scuffed leather, a rusty gun, or a dirty un-pressed uniform will not be tolerated.
You will be held to a higher standard. Your conduct both on and off duty is a reflection of the Sheriff and this organization.
If your actions, in any way, bring dishonor to this agency or your personal life becomes our problem, there are consequences. (Examples include but are not limited to public intoxication, willingly failing to pay debts, discriminatory behavior, extramarital affairs, distasteful social media posts, using your badge to solicit special privileges, reckless driving, dancing on the table of a bar…you get the picture.)
Deputies do not just solve crime, they solve problems.
You will be asked over your career to mediate between neighbors arguing over yard trash, property line disputes, and pets. You will be asked to stop and help stranded motorists and change countless tires. You will be required to counsel people who have lost control of their lives due to chemical dependency, loss of emotional control, and difficult financial situations. You will learn the residents in your zone, not just the people you arrest. You will deal with the mentally ill, families in crises, unwashed messes, and people who curse you on a routine basis. You may have to tell someone their son or daughter, mother or father is not coming home. You will accept anger or tears in return.
If any of these realizations give you pause, you should not continue in this process. True courage comes from saying "this is not for me" and understanding there are many other ways to serve the community. But, if you so choose to embark on this journey, it will be one of the most rewarding careers imaginable. You will not become financially wealthy, but you will have a wealth of experience. You will make a difference in people's lives and be in situations to –quite literally—save lives.
The quality of your career is in the making. We will give you the tools, training, and guidance to be successful. You must give us your best.