Fire Rescue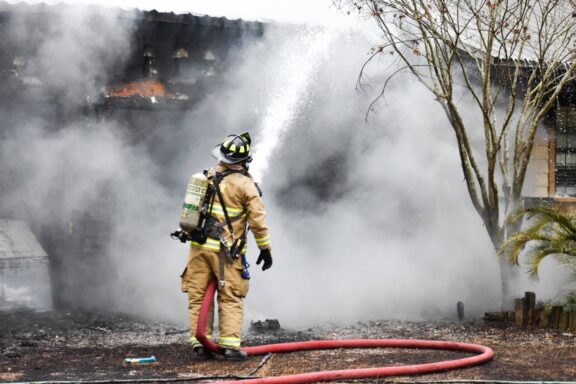 Walton County Fire Rescue, which the Walton County Sheriff's Office assumed control over in April of 2017, is a full service fire rescue agency commanded by Fire Chief Russell Beaty. Walton County Fire Rescue is responsible for providing fire suppression and fire prevention services and emergency medical services for the unincorporated areas of Walton County north of Choctawhatchee Bay and the City of Freeport.
WCFR employs over 100 highly trained fire rescue professionals who are dedicated to the protection of life and property for the citizens of Walton County, Florida.
Fire Rescue Districts
District 1 : Paxton
District 2: Woodlawn & Pleasant Ridge
District 3: Gaskin & Darlington
District 4: DeFuniak Springs
District 5: Windswept
District 6: Glendale
District 7: Liberty
District 8: Redbay
District 9: Argyle
District 10: Choctaw Beach
District 11: Mossy Head
District 12: Freeport
The primary mission of Walton County Fire Rescue is to provide residents and visitors of Walton County and neighboring communities with exemplary care and protection during emergency and non-emergency situations.
CORE VALUES: INTEGRITY – SERVICE – COURAGE
Integrity – Integrity is central to everything we do and key to maintaining the trust of our citizens, colleagues and fellow first responders. We are honest and truthful with the citizens and visitors we serve. We model positive behavior and observe the highest moral and ethical principles.
Service – The Walton County Sheriff's Office and Walton County Fire Rescue exist to serve and protect our community and its citizens. We strive each day to be selfless in our devotion to duty as first responders. We carry out our crucial mission with professionalism, respect for others, discipline and self-control.
Courage – We will carry out our duty to serve and protect the property and citizens of Walton County with the utmost physical and moral courage, despite personal risks, and with the firm commitment to do what is right and just. We take responsibility for our decisions and actions and courageously consider new ideas to change and improve our organization where change and improvement are needed.
Community Resources