Advanced Civilian Firearms Courses
Duration: 8 hours (two 4-hour sessions)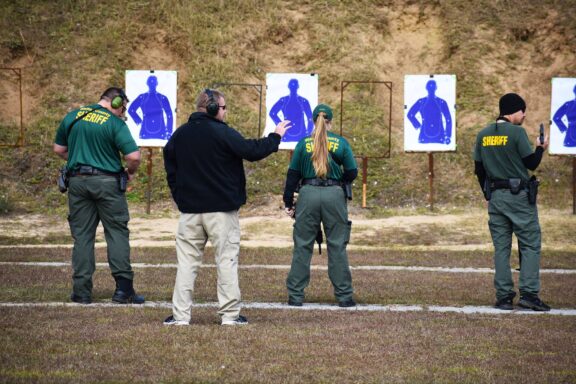 Session 1: 8:00 am – 12:00 pm
Lunch: 12:00 pm – 1:00 pm
Session 2: 1:00 pm to 5:00 pm.
Prerequisite: Walton County Sheriff's Office Basic Firearms class, without the basic class you will not be allowed to attend.
This class will require students to be capable of moderate physical activity. Students will be required to assume multiple shooting positions & move in ways that they are not accustomed to. Students must be 21 years or older to participate in the Advanced Civilian Firearms Course.
Mandatory Equipment Requirements:
Ammunition: minimum of 300 rounds
Serviceable pistol of .380 caliber or larger
Minimum of 3 pistol magazines or 3-speed loaders for the revolver
Wraparound eye protection & ear protection are mandatory
Suitable belt & holster
Proper range clothing (no shorts, skirts, slick bottom shoes, tank tops or low cut shirts)
In order to maintain class safety, continuity and effectiveness, an inspection of the required equipment will be done prior to the start of the class. If the student does not bring the mandatory equipment or their equipment is in an unsafe condition, the student will be asked to leave. They may reschedule at a later date.
The class will cover:
Mental training skills to improve your odds of survival, gun and trigger control in stressful situations, gun sighting under stressful conditions, visual skills, reactive shooting, one-handed shooting, alternate shooting positions, and multiple threat engagements.
Class Cost:
$65.00 (payment will only be accepted through online registration)
Questions or Comments:
Email Deputy Keith Hargrove at [email protected].
Schedule Of Classes:
Please CLICK the date of the class you wish to attend, and you will be directed to the registration site.
PREREQUISITE: YOU MUST ATTEND OUR BASIC CIVILIAN FIREARMS CLASS PRIOR TO ATTENDING THE ADVANCED CIVILIAN FIREARMS CLASS
There are currently no available classes for 2023.