WCSO TO BEGIN OPERATION BLUE BIRD STARTING THURSDAY, AUGUST 10TH
Posted on August 9, 2023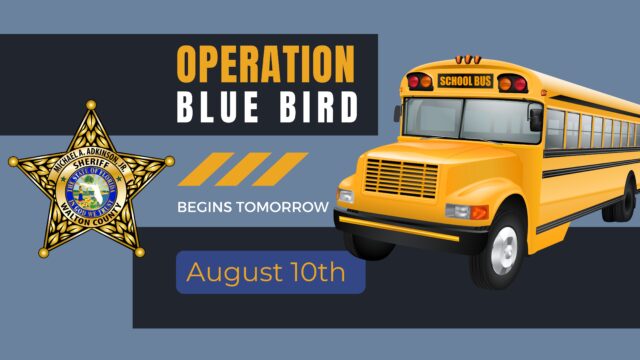 WALTON COUNTY, Fla— The 2023-2024 school year starts tomorrow, and Walton County Sheriff's Office is reminding motorists of increased enforcement as a part of a yearly initiative to help students head back to class safely.
Operation Blue Bird will begin on August 10th addressing traffic violations in school zones and keeping buses safe along their routes.
Enforcement will focus on speeding in school zones, texting and driving, passing a school bus that is stopped, seatbelt violations, and reckless driving.
These focused efforts are intended for the times before school begins and when schools release students to ensure they are getting to and from class without issue.
Drivers can expect to see a heavy presence of law enforcement in school zones. Unmarked vehicles will also be used to ensure motorists are complying with laws related to school bus safety.
"Our children deserve to begin their school year focusing on what truly matters," said Sheriff Michael Adkinson. "Parents and students should not have to worry about whether they will make it to school without a crash or someone not obeying a stopped school bus.
That's where we come in."
Operation Blue Bird is scheduled to run through September 1st. Walton County Sheriff's Office encourages drivers to be patient as we see an increase in traffic and congestion on the roadway. Let's send students back-to-school safely.