WCSO SEEKING INFORMATION ON SUSPECT WANTED FOR ARMED BURGLARY AND AGGRAVATED BATTERY
Posted on October 16, 2018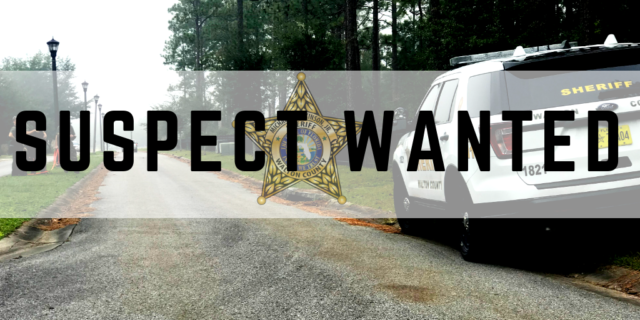 October 16, 2018
WALTON COUNTY, Fla— Walton County Sheriff's Office is seeking information on a suspect following an armed burglary of an occupied dwelling and aggravated battery in Freeport.
At approximately 6:30 AM this morning, Walton County Sheriff's Office deputies responded to a call in reference to an armed burglary and aggravated assault at the 14000 block of 331 Business in Freeport. The victim stated a man came inside her home and threatened her and her son with a weapon.
The suspect initially fled on foot, but is believed to be traveling the area in a beat-up, older model sedan, possibly a Toyota, gold or silver in color with gold or silver spray paint covering the dents on the vehicle. The back windshield was busted out and is covered in an unknown material.
The suspect is described as a white male with brown hair standing approximately 6'0 wearing camouflage jacket, blue jeans and tan shoes. The suspect has black tattoos covering his arms, hands and chest. He also has a surgical scar stretching from his sternum just below his bellybutton with fresh staples as observed by a witness from a previous encounter with the suspect.
Anyone with information is asked to call the Walton County Sheriff's Office at (850) 892-8111 or you can remain anonymous by calling Emerald Coast Crime Stoppers at (850) 863-TIPS. Submit a web tip at http://www.emeraldcoastcrimestoppers.com/ or send a mobile tip using the P3 Tips Mobile Application or the Walton County Sheriff's Office smartphone app. You could be eligible for a cash reward.