WCSO Lieutenant Graduates from Florida Sheriffs Association 2019 Commanders Academy Class VIII
Posted on May 29, 2019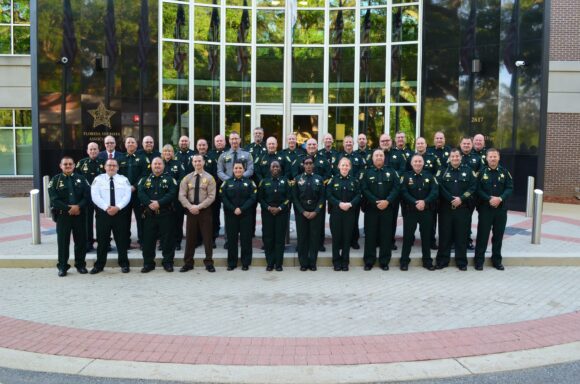 Tallahassee, Fla. (May 29, 2019) – Today, sheriff deputies and personnel representing 34 Florida sheriffs' offices graduated from the Florida Sheriffs Association's prestigious Commanders Academy. The Commanders Academy is an exceptionally informative and educational experience that is vital for public safety leaders of the next generation. The academy provides a comprehensive curriculum and offers programs on leadership skills, business and personal ethics, management training and other topics that relate to the law enforcement profession.
"The Commanders Academy, having graduated its eighth class, has been recognized as the top course of the executive study program for our criminal justice leaders," said FSA President and Columbia County Sheriff Mark Hunter. "This training program prepares commanders for senior leadership in today's most effective policing."
"Our sheriffs, along with their commanders, deputies, and staff are the best men and women in their profession. We are always training and improving, and the Commanders Academy is one of the reasons that Florida's sheriffs set the bar for the nation," said Steve Casey, executive director of the Florida Sheriffs Association.
In addition to successfully completing this two-week training course, Commanders Academy Class 8 also raised $42,036.30 for the Florida Sheriffs Youth Ranches. This generous donation will help support the mission of the Florida Sheriffs Youth Ranches in preventing delinquency and to develop lawful, resilient and productive citizens. The Florida Sheriffs Association would like to congratulate all the graduates of the 2019 Commanders Academy.
FSA Commanders Academy Class VIII:
Sergeant Scott Ulrich, Alachua County Sheriff's Office
Sergeant Tracie Benton, Baker County Sheriff's Office
Lieutenant David Higgins, Bay County Sheriff's Office
Lieutenant Kevin Mueller, Bradford County Sheriff's Office
Lieutenant Adrienne Philpart, Broward County Sheriff's Office
Captain Ryan Glaze, Citrus County Sheriff's Office
Assistant Chief Keith Smith, Clay County Sheriff's Office
Lieutenant Jeremiah Carroll, Collier County Sheriff's Office
Lieutenant Don A. Meyer, Columbia County Sheriff's Office
Lieutenant Jose Raya, DeSoto County Sheriff's Office
Captain Dawn Elizabeth Janes, Escambia County Sheriff's Office
Chief Christopher Sepe, Flagler County Sheriff's Office
Captain Gary Martina, Franklin County Sheriff's Office
Captain Bobby Joe Green, Highlands County Sheriff's Office
Lieutenant Justin Knott, Indian River County Sheriff's Office
Lieutenant Michael W. Marden, Lake County Sheriff's Office
Captain Grady Jordan, Leon County Sheriff's Office
Chief Deputy John A. Summers, Liberty County Sheriff's Office
Captain William Gonzalez, Miami-Dade County Sheriff's Office
Lieutenant Randy Thomas, Okeechobee County Sheriff's Office
Director Bryan J. Rintoul, Orange County Sheriff's Office
Captain Timothy C. Pupke, Pinellas County Sheriff's Office
Lieutenant Jarine Gordon-Rudolph, Polk County Sheriff's Office
Captain Kenneth Parden, Putnam County Sheriff's Office
Lieutenant Mark James, Santa Rosa County Sheriff's Office
Captain David Scott, Sarasota County Sheriff's Office
Lieutenant Miguel Sierra, Seminole County Sheriff's Office
Commander Kevin Cronin, St. Johns County Sheriff's Office
Lieutenant Stephen Sigmon, St. Lucie County Sheriff's Office
Sergeant Jake Greene, Suwannee County Sheriff's Office
Chief Deputy Marty Tompkins, Taylor County Sheriff's Office
Lieutenant Corey Piser, Volusia County Sheriff's Office
Lieutenant Jeremy W. Johnston, Wakulla County Sheriff's Office
Lieutenant Chris Lehman, Walton County Sheriff's Office
For more information on the Florida Sheriffs Commanders Academy, visit: http://www.flsheriffs.org/training/commanders-academy/