WCSO LAUNCHES NEW SMART PHONE APP AND WEBSITE
Posted on May 14, 2018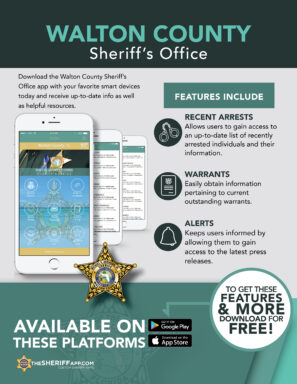 For Immediate Release
May 14, 2018
WALTON COUNTY, Fla— Walton County Sheriff's Office is getting a facelift! We are proud to announce two new ways for residents and visitors to stay up-to-date with the latest information involving their local law enforcement agency.
Walton County Sheriff's Office has launched a new website and smartphone application starting Monday, May 14th.
The new waltonso.org website, built by Cyber Sytes Incorporated, brings a clean new look to the Sheriff's Office as a whole. Now that WCSO encompasses Walton County Fire Rescue, the Walton County Animal Shelter, and eventually Child Protective Services the site will provide a one-stop-shop for anyone looking for information regarding these unique assets. The website offers an aesthetically pleasing look with an easy-to-navigate homepage. In addition, residents are just one click away from accessing all the social media tools of the agency!
TheSheriffApp.com built WCSO a custom iPhone and Android app to reach residents and visitors where they are – on their smartphones. The WCSO application provides residents the opportunity to receive push notifications during ongoing incidents, submits tips to Crime Stoppers, and see real-time updates regarding arrests and active warrants. In addition, Walton County Sheriff's Office has integrated with existing platforms such the sex offender locator through Florida Department of Law Enforcement that offers a platform for residents to search for sex offenders in their neighborhoods.
"We look at both as an opportunity to reach out directly to community members," said Sheriff Michael Adkinson. "During the information age, these are a must!"
To visit the new website, go to www.waltonso.org. To download the smartphone application download on the App Store or get it on Google Play!