WCSO DONATES MORE THAN 40 BIKES TO GULF COUNTY BOY SCOUT TROOP IMPACTED BY HURRICANE MICHAEL
Posted on December 10, 2018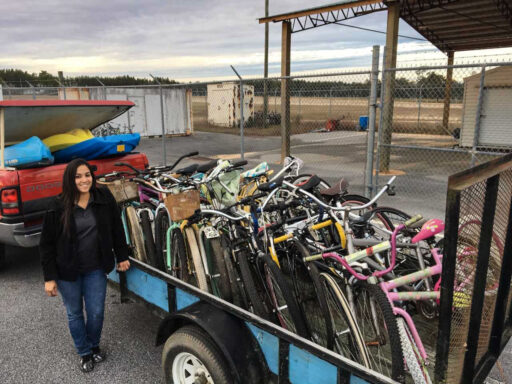 December 10, 2018
WALTON COUNTY, Fla— Lost and found property from Walton County now has a new home in an area heavily impacted by Hurricane Michael.
More than 40 bikes were donated to the Gulf Coast Council Friday from the evidence locker at Walton County Sheriff's Office.
Gulf Coast Council of the Boy Scouts of America serves over 5,000 youth in traditional Scouting and Learning for Life programs in eight counties of the Florida Panhandle and three counties in Alabama.
The Cub and Boy Scouts in Gulf County lost most of their property during the hurricane and this donation will allow them to work on earning a Biking Merit Badge. Remaining donations will be given to hurricane victims in the local Gulf County area.
Jim Boksa, Program Director for Gulf Coast Council, said the bikes will be given to Boy Scout Troop 347 in Port St. Joe that had been devastated by Hurricane Michael. In addition, three kayaks are to be donated to Spanish Trail Scout Reservation in DeFuniak Springs.
The equipment was donated from the evidence vault at WCSO after exceeding the hold period required by state statute. Bikes and kayaks were lost and found property from all over Walton County not claimed over the last two years. There is a 90 day hold period required before items can be discarded.
"I can't think of a better way to put these items to use," said Sheriff Michael Adkinson.
###