WCFR TO HOST MULTI-AGENCY MOCK CAR CRASH TO HIGHLIGHT THE DANGERS OF DISTRACTED DRIVING
Posted on May 3, 2018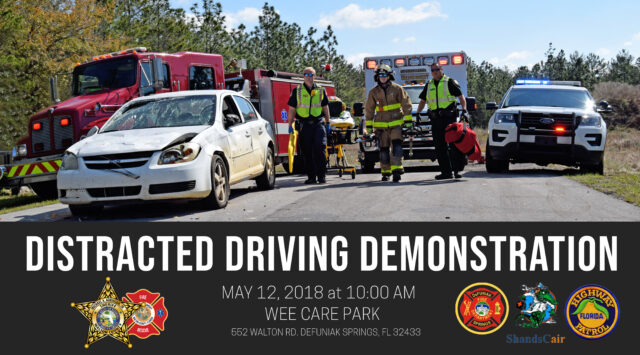 DEFUNIAK SPRINGS, FLA. — According to Florida's Department of Highway Safety and Motor Vehicles, almost 50,000 car accidents were attributed to distracted driving in 2017.
That's why Walton County Fire Rescue is teaming up with other local first responders to host a mock traffic crash emphasizing the dangers of distracted driving for the community.
On Saturday, May 12, 2018 at 10:00 AM, Walton County Fire Rescue and the Walton County Sheriff's Office will be partnering with the DeFuniak Springs Fire Department, ShandsCair, Florida Highway Patrol, All Pro Towing and Clary Glenn Funeral home to host a mock fatal car crash at Wee Care Park in DeFuniak Springs. This event has one message in mind: don't drive distracted.
FLHSMV defines distracted driving as anything that takes your hands off the wheel, your eyes off the road or mind off driving. It is extremely risky behavior that puts everyone on the road in danger.
Those in attendance will witness a real-time simulation of a fatal traffic crash staged by local first responders. The mock traffic crash will provide a realistic look into the serious and tragic consequences of distracted driving.
"Too often we respond to fatal traffic crash scenes where drivers were distracted," said Sheriff Michael Adkinson. "We hope this demonstration will help remind people that even the smallest distractions, like sending a quick text message or looking at social media, while driving can have life changing consequences."