WCAS CELEBRATES SELECTION AS WINN-DIXIE COMMUNITY BAG PROGRAM BENEFICIARY
Posted on November 3, 2020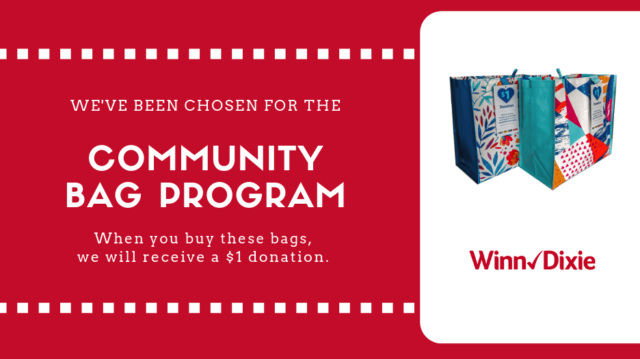 November 2, 2020
WALTON COUNTY, Fla— Walton County Animal Services has been selected as a beneficiary of the Community Bag Program for the month of November.
The Winn-Dixie Community Bag Program, which launched in February 2019, is a reusable bag program that facilitates community support with the goal to make a difference in the communities where shoppers live and work.
Walton County Animal Services was selected as the November beneficiary of the program by store leadership at the Winn-Dixie located at 64 Poinciana Boulevard in Miramar Beach.
WCAS will receive a $1 donation every time the $2.50 reusable Community Bag is purchased at this location during November unless otherwise directed by the customer through the Giving Tag attached to the bag.
"We are thrilled to be named a beneficiary," said Patti Weingartner, Volunteer Coordinator at Walton County Animal Shelter. "This is a 'Winn-win' for both the animals and the environment."
Learn more about additional ways to donate to Walton County Animal Services by visiting https://waltonso.org/donate-to-wcas/.
For more information on the Community Bag Program, visit seg.bags4mycause.com.