WALTON COUNTY FIRE RESCUE SAVES LIMESTONE COMMUNITY HOME AFTER FIRE BREAKS OUT IN BEDROOM
Posted on July 17, 2023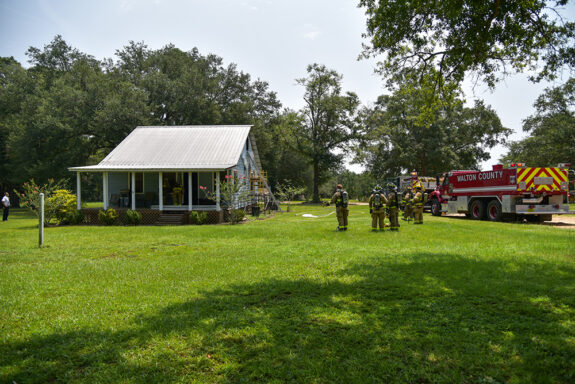 Walton County Fire Rescue's quick response saves a man's home from being destroyed after a fire breaks out in the upstairs bedroom.
At 10:57 a.m. on Monday, July 17, 2023, Walton County Fire Rescue and Walton County Sheriff's Office were dispatched to a residence on Oak Grove Road located in the Limestone community, just north of Darlington, in reference to a structure fire. The homeowner called 911 after arriving home and finding heavy smoke coming from the second story.
Walton County Fire Rescue crews arrived on scene at 11:10 a.m. and immediately made entry into the home. Firefighters quickly knocked down flames found in the upstairs bedroom, keeping the fire from destroying the main floor of the ranch-style home.
"Another great stop," says Fire Chief Austin Pugh. "These men and women train tirelessly and it shows. Their quick action stopped the spread of the fire and saved this man's home."
Fortunately, no one was injured in the fire. The fire is believed to have been caused by a lit cigarette left by the bed in the upstairs bedroom.