WALTON COUNTY FIRE RESCUE ONE OF FIVE FLORIDA AGENCIES TO PARTICIPATE IN EMS PEDIATRIC STUDY
Posted on February 8, 2021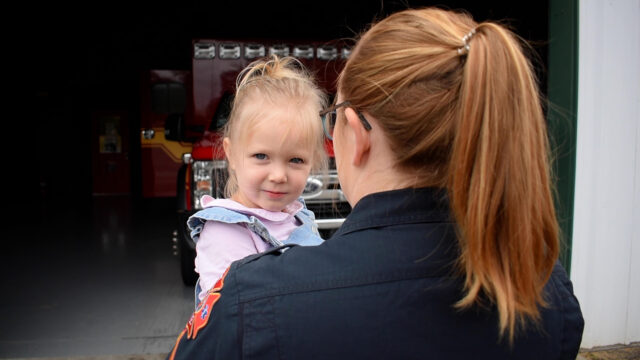 February 8, 2021
WALTON COUNTY, Fla— Walton County Fire Rescue is one of five agencies in Florida participating in a new EMS Pediatric Study done by the University of Florida and the National Institutes of Health.
The study was initiated to help researchers understand whether early administration of steroids in a prehospital environment improves outcomes for children with asthma.
Dr. Jennifer Fishe, a Pediatric Emergency Medicine Physician at the University of Florida in Jacksonville, reached out to Walton County Fire Rescue to participate.
"Asthma is the most common chronic childhood disease," said Dr. Fishe "Asthma causes many EMS runs and emergency room visits and has a tremendous impact on children, their families, and the healthcare system."
A lot goes on in the airway when it comes to an asthma attack. It can become swollen and inflamed and the muscles around the airways can contract producing extra mucus, causing the breathing (bronchial) tubes to narrow. During an attack, you may cough, wheeze and have trouble breathing.
"What we found in an emergency room setting is the quicker a steroid is given to the patient, the more likely the child is not to be hospitalized," said Dr. Fishe. "What we're trying to find out now is if EMS administering steroids to pediatric patients would reduce their length of stay and decrease healthcare costs."
Five agencies across the state of Florida are participating in the study including Lee County, Leon County, Sarasota County, and Nassau County. Walton County began participating on November 4th.
"Administration of pre-hospital steroids in asthma patients is a common practice in treating adults," said Assistant Chief Tim Turner of Walton County Fire Rescue. "It's usually accomplished either through intramuscular or intravenous injections."
But, when treating children, however, they tend to become more anxious and upset when approached with needles – potentially making their asthma worse.
"This study aims to change that by allowing clinicians to administer an oral steroid to pediatric patients in the field," said Turner.
The research will be conducted for a total of 18 months, at which time Chief Turner says Walton County Fire Rescue will continue the protocols in place during the study.
"It just makes sense," said Turner. "Children are our greatest asset, and we feel continuing these changes will greatly impact clinical outcomes in a positive way and take a significant financial burden off their parents.
"We're here to serve our citizens and we believe this is a great way to do that."
This study is being funded by the University of Florida Seed Grant and the National Institutes of Health.