WALTON COUNTY FIRE RESCUE KNOCKS DOWN MOBILE HOME FIRE IN JUST TWENTY MINUTES
Posted on April 18, 2023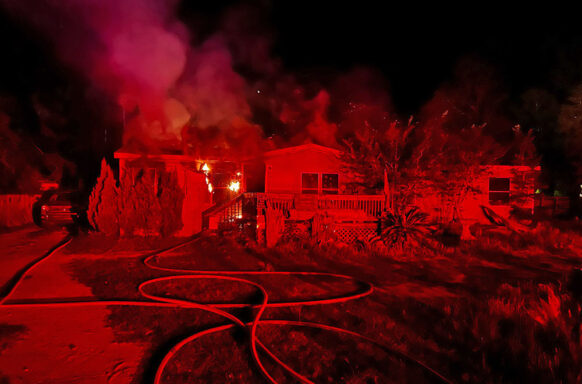 In just twenty minutes, Walton County Fire Rescue knocked down flames that broke out in a Freeport home Monday night.
Shortly after 9:00 PM on April 17, 2023, Walton County Fire Rescue and Walton County Sheriff's Office deputies responded to a home on April Court following a 911 call reporting a structure fire. Firefighters arrived on scene to find flames coming from the left side of a single wide mobile home.
Walton County Fire Rescue crews had the fire under control within just ten minutes of their arrival. Within twenty minutes, firefighters had the fire completely extinguished. Fortunately, all residents made it out of the home safely.
"Extinguishing a fire in twenty minutes is impressive," says Sheriff Adkinson. "Extinguishing a fire in a mobile home, which are known for burning more quickly, is monumental. Their quick action stopped the spread of the fire, allowing them to salvage some of the homeowner's personal belongings."
The fire is believed to be accidental in nature. The American Red Cross was contacted to assist the owner of the damaged home.