WALTON COUNTY FIRE RESCUE FIREFIGHTERS KNOCK DOWN HOUSE FIRE IN GASKIN
Posted on August 20, 2018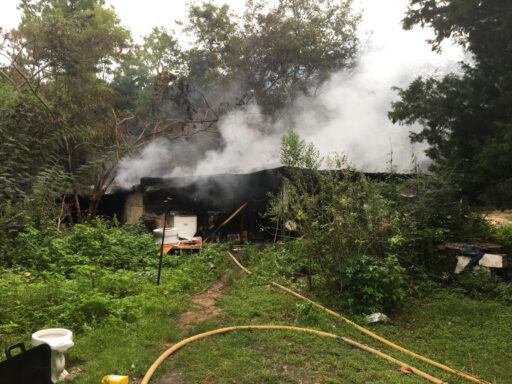 August 20, 2018
Gaskin, Fla—Walton County Fire Rescue firefighters leap into action after spotting smoke coming from a residence across the street from their station on County Highway 181 East in Gaskin.
Shortly after 9:00 AM on Saturday, August 18, 2018, Walton County Fire Rescue crews noticed smoke coming from a house across the street from Station 3. Firefighters were on their way over to the home to investigate the cause of the smoke when the homeowner ran over to them stating her storage garage was on fire. Firefighters and Paramedics suited up and headed for the home. They arrived on scene to find heavy black smoke and flames coming out of most of the structure.
Walton County Fire Rescue battled the fire for nearly 30 minutes before the flames were contained. Fortunately, no residents were inside the structure at the time of the fire no one was injured.
Electrical issues are believed to be the cause of the fire. Fire rescue crews cleared the scene just before 11:00 AM Saturday morning.