WALTON COUNTY FIRE RESCUE FIREFIGHTERS BATTLE RESIDENTIAL FIRE IN FREEPORT
Posted on August 25, 2018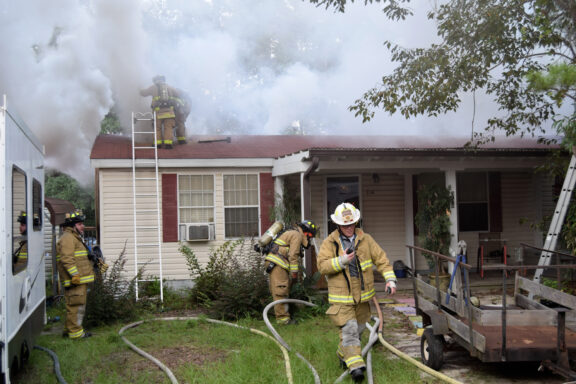 August 25, 2018
FREEPORT, Fla—Walton County Fire Rescue firefighters knock down a structure fire at a home on Goodwin Creek Road in Freeport.
At 6:00 PM on Friday, August 24, 2018, Walton County Fire Rescue crews responded to a 911 call in reference to a structure fire at 382 Goodwin Creek Road in Freeport. Firefighters and Paramedics arrived on scene to find heavy smoke coming from the eaves of the home.
Firefighters entered the home and found flames in the kitchen and the attic. Walton County Fire Rescue battled the fire for two hours before extinguishing the flames. Fortunately, the residents of the home and the family's dog made it out of the burning residence unharmed.
The fire is believed to be caused by electrical issues with a kitchen appliance and appears to be accidental in nature. The American Red Cross was contacted to assist the residents of the severely damaged home.