WALTON COUNTY FIRE RESCUE BECOMES FIRST FIRE RESCUE ORGANIZATION TO EARN EMS ACCREDITATION IN PANHANDLE
Posted on June 29, 2021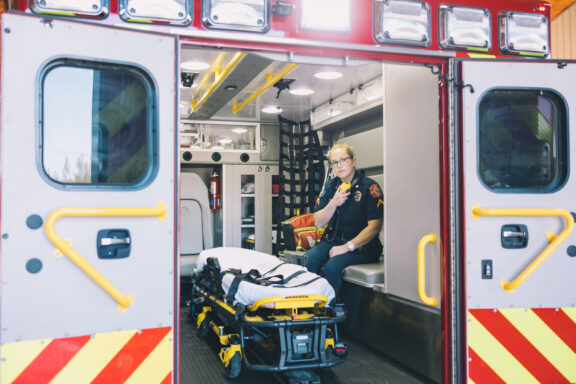 June 29, 2021
WALTON COUNTY, FL — Walton County Fire Rescue is now the first fire rescue organization to earn EMS accreditation in the Florida Panhandle.
On June 29, 2021, the Walton County Sheriff's Office, Fire Rescue Division was awarded a three-year accreditation by the Commission on Accreditation of Ambulance Services (CAAS).
Accreditation is awarded to an emergency services agency upon demonstration of commitment to excellence by living up to a body of standards deemed essential to the safety and health of the public as well as having exemplified best professional practices.
Accreditation has long been recognized as a means of maintaining the highest standards of professionalism across public safety agencies.
For Walton County Fire Rescue it's been nearly two years in the making. The five-step CAAS process begins with self-assessment followed by application submission which was done in October 2020.
Next, members of CAAS conduct a remote site review of the application, which was done virtually on June 17th and 18th. During this step, reviewers interview staff members and gather the information needed to verify service needs are being met by the agency.
During this process, Walton County Fire Rescue was evaluated based on 113 grading points. These points include how EMS tracks and secures supplies, how patient care is monitored, how patient care review drives the training program, response times, mutual aid agreements, disaster coordination, and community education.
The actual determination of accreditation was determined by a panel of commissioners representing health care, law, and business who recognized Walton County Fire Rescue EMS met, and in some cases, exceeded nationally accepted high standards for patient care in the ambulance industry.
"This accreditation is a tribute to the hard-working men and women of Walton County Fire Rescue and their passion for service to the community," said Sheriff Michael Adkinson. "We are thrilled to be the first Fire Rescue run EMS service in Northwest Florida to receive accreditation and one of nine in the entire state of Florida. In addition, we are the only rural EMS service to achieve this recognition."
"Earning our accreditation is a demonstration of our commitment to excellence and the exceptional talent of staff to provide world-class out-of-hospital patient care to the sick and injured," said Walton County Fire Rescue Chief Tracey Vause. "The Walton County Fire Rescue family is the best at what they do and this is the highest recognition to honor that."