WALTON COUNTY BCC CLOSES BEACHES TO THE GENERAL PUBLIC; SHERIFF'S OFFICE CHARGED WITH ENFORCEMENT
Posted on March 19, 2020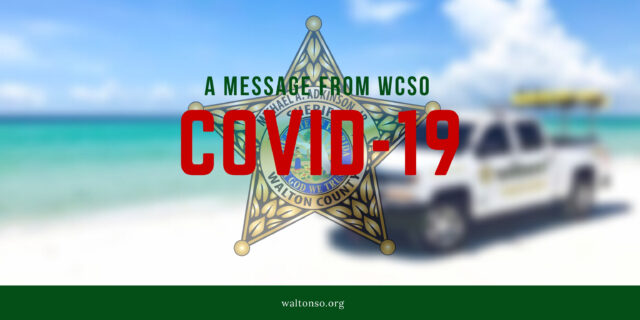 March 19, 2020
WALTON COUNTY, Fla— A vote early Thursday morning has closed beaches to the general public in Walton County.
At their scheduled emergency meeting Walton County Board of County Commissioners passed an emergency ordinance to close all Walton County beaches to the public.
The ordinance is effective immediately as of 9:45 a.m. on Thursday, March 19th, 2020 and will remain in place for 30 days unless subsequent action is taken by the Commission.
Walton County Sheriff's Office will be charged with enforcement of the ordinance which came following a local state of emergency triggered by COVID-19.
Walton County Sheriff's Office is seeking voluntary compliance in this unprecedented time in our community. It is imperative for our constituents to understand the magnitude behind this decision and the resources it will take to enforce it.
While deputies will be doing their best to educate and mediate first, personal responsibility is essential during this time for the safety and health of our county.
Normal operations will continue at the Sheriff's Office as far as answering calls for service and continuing our commitment to serving our residents.
We are asking for our community to come together to help spread this message.
"The important thing to understand is that we are going to carry out our duties in a professional manner with an emphasis on customer service with a common-sense approach," said Sheriff Adkinson. "It is our intent to continue to be good stewards of the public's trust."
"The Walton County Board of County Commissioners continues to convey the importance of following CDC guidelines and practicing social distancing," said Walton County Administrator Larry Jones.  "We are asking residents and visitors to continue to take personal responsibility towards working to halt the spread of the COVID-19 virus."
VIEW THE ORDINANCE – Ordinance 2020-08
https://www.co.walton.fl.us/DocumentCenter/View/37995/Emergency-Ordinance-Closing-Public-Beaches-Ordinance-2020-08