UNLOCKED TRUCK STOLEN, CLEANED OUT, RECOVERED; SUSPECT SOUGHT IN MULTIPLE BURGLARIES
Posted on August 28, 2018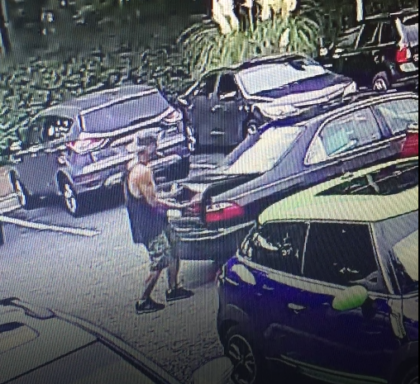 August 28, 2018
MIRAMAR BEACH, Fla— A suspect steals a truck with the keys left in it and burglarizes two more vehicles. Then, he takes the victim's stolen credit cards on a shopping spree.
Walton County Sheriff's Office is asking for the public's help in identifying the suspect in multiple burglaries that occurred on Monday in Miramar Beach.
Deputies responded around 3 pm to Grand Boulevard where a victim reported his truck was stolen while he was at work.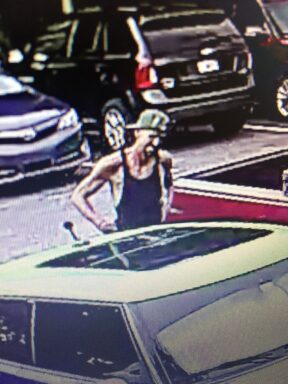 The truck was located shortly after in a different area of the parking lot.
Surveillance video shows the suspect park the stolen truck, go and get his own vehicle, and proceed to take items from the truck and put them in his car.
Shortly after, the male suspect entered Ben & Jerry's and stole car keys from the counter top. The suspect located the car in the parking lot and rummaged through it.
At around 4:30 pm, a victim reported her vehicle was burglarized and her purse was stolen. A stolen credit card was used at a store in Grand Boulevard. Video footage shows the same suspect who stole the truck and burglarized the additional vehicle.
The suspect is described as a male with a goatee, wearing a black tank top and gray shorts. The suspect's vehicle is a black Honda Accord with Mississippi plates.
Anyone with information is asked to call the Walton County Sheriff's Office at (850) 892-8186 or you can remain anonymous by calling Emerald Coast Crime Stoppers at (850) 863-TIPS. Submit a web tip at http://www.emeraldcoastcrimestoppers.com/ or send a mobile tip using the P3 Tips Mobile Application or the Walton County Sheriff's Office smartphone app. You could be eligible for a cash reward.
— Walton Co. Sheriff (@WCSOFL) August 28, 2018