TURN 'EM IN TUESDAY – JEFFREY WAY ARRESTED
Posted on August 21, 2018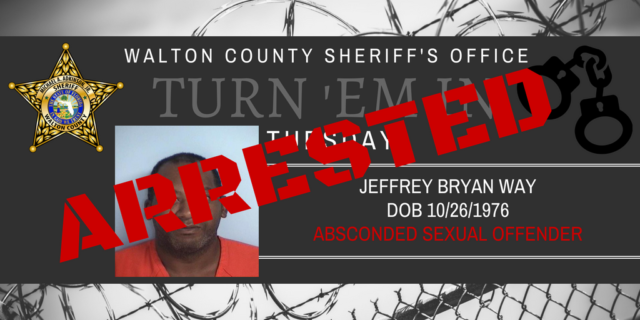 UPDATE – JEFFREY BRYAN WAY ARRESTED
Absconded sex offender, Jeffrey Bryan Way, was located and arrested without bond early this morning by DeFuniak Springs Police Department on felony failure to report name or residence change and misdemeanor child support charges. Thanks to an anonymous tip, Mr. Way found his "way" back behind bars.
_________________________________________
We go "way" back with Mr. Way, and we're looking to catch up with him because we haven't seen him in a while. You know, to have a little chat with him about the way the law works.
Jeffrey Bryan Way, 41, is an absconded sex offender, currently wanted for failure to register a new address. We've had quite a few run-ins with Mr. Way. He has previously been arrested on a slew of charges including domestic violence, burglary, and battery. So, he is no stranger to the Walton County Sheriff's Office.