"THIS IS WHAT OUR DEPUTIES ARE FACING." 22 STOLEN GUNS RECOVERED DURING SEARCH WARRANT
Posted on May 21, 2019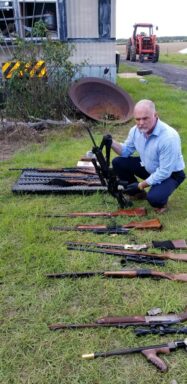 May 21, 2019
DEFUNIAK SPRINGS, Fla— Twenty-two guns, including multiple semi-automatic assault rifles, and thousands in stolen property is recovered during a search warrant in northern Walton County Monday.
The find was the result of a joint effort by Walton and Covington County Sheriff's Offices following a series of burglaries in both jurisdictions.
In one Covington County case, a gun safe was cut open with a cutting torch resulting in the theft of 22 firearms. Approximately $55,000 worth of items were also stolen from the residence.
During the investigation, intelligence was gathered that led authorities to identify Hunter Brown, 34, as a person of interest. Enough information was gathered to obtain a search warrant for Brown's home off Davis Road in DeFuniak Springs.
On May 20th, Investigators from the Walton County Sheriff's Office Criminal Investigations Bureau executed the search warrant where most of the stolen property from Covington County was recovered including multiple firearms that include multiple AR-10s and a Thompson submachine gun.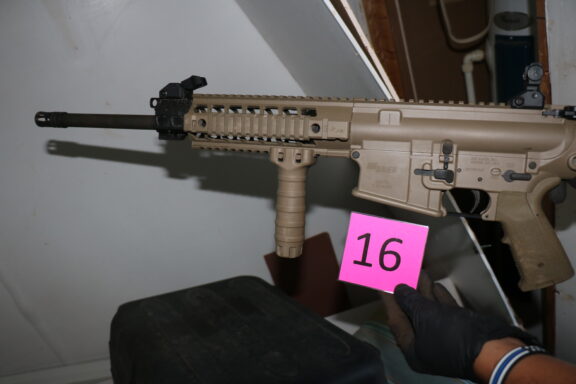 Additionally, items reported stolen from Geneva County, Alabama and Okaloosa County, Florida was recovered.
"This is the kind of threat our deputies are facing every day," said Sheriff Michael Adkinson. "This case is the culmination of great investigative work by multiple agencies."
As a result, Julie Brown, Hunter's sister living on the property, was found in possession of meth and drug paraphernalia while on felony probation. Julie Brown was charged with possession of a controlled substance, possession of drug paraphernalia, and felony violation of probation.
Covington County is currently seeking felony arrest warrants for Hunter Brown who is currently on probation for dealing in stolen property.  Brown was last seen driving a 2012 Ford F250, bearing Florida tag BADA14.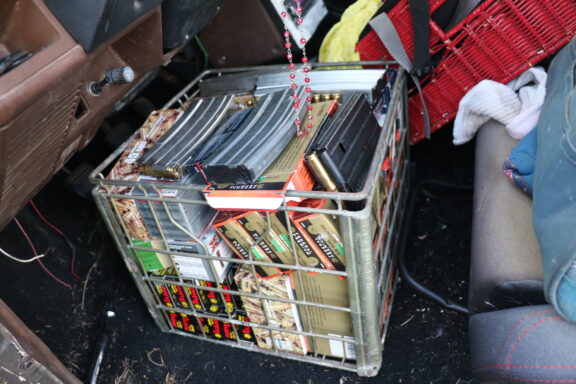 Anyone with information regarding Brown's whereabouts is asked to contact the Walton County Sheriff's Office at (850) 892-8111 or you can remain anonymous by calling Emerald Coast Crime Stoppers at (850) 863-TIPS. Submit a web tip at http://www.emeraldcoastcrimestoppers.com/ or send a mobile tip using the P3 Tips Mobile Application.
Walton County Sheriff's Office would like to thank Covington County Sheriff's Office and Walton and Holmes Correctional K9 Units for their assistance along with Bureau of Alcohol, Tobacco, Firearms, and Explosives (ATF).