TENNESSEE MAN WANTED FOR ATTEMPTED MURDER CAPTURED IN WALTON COUNTY AFTER A YEAR ON THE RUN
Posted on May 8, 2023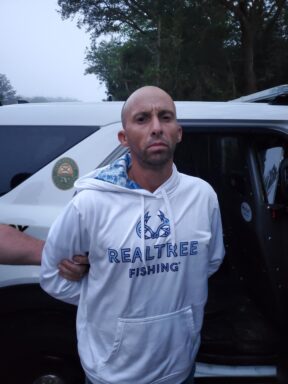 May 8, 2023
WALTON COUNTY, Fla— A Tennessee man fleeing attempted murder charges for over a year has been captured in Walton County.
Jesse L. Suggs, 37, was arrested at a home on Rock Hill Road in DeFuniak Springs this morning by Walton County Sheriff's Office and members of the U.S. Marshals Florida Caribbean Regional Task Force after information was obtained that he was wanted out of Lincoln County, Tennessee for attempted murder.
During the incident, Suggs nearly beat his girlfriend to death and threatened her life and her daughter's life if she went forward to press charges.
Authorities out of Tennessee have been searching for Suggs since April 2022. He also has nationwide extradition warrants out of Alabama.
Suggs was taken into custody and transported to the Walton County Jail where he is awaiting extradition back to Tennessee.
U.S. Marshals Task Force members on this arrest consisted of Bay County Sheriff's Office, Panama City Police Department, Lynn Haven Police Department, and U.S. Customs and Border Protection.