STEERING IN A NEW DIRECTION; WALTON COUNTY JAIL HEAVY EQUIPMENT GRADUATE LANDS JOB DAY HE'S RELEASED
Posted on October 31, 2022
The day he was released from the Walton County Jail a free man, Christopher Carroll walked onto a job site in DeFuniak Springs carrying nothing but a certificate.
The next day, he reported for his first shift.
"I could have started work that day," said Carroll. "But I needed steel-toe boots."
Carroll is among 33 inmates to complete the Jail's Heavy Equipment Operators Course since its inception in 2018. Wednesday, the program celebrated the seventh such graduation ceremony.
Inmates are vetted through a selection process to participate in the five-week course which aims to teach the safety, maintenance, and operation of heavy equipment.
The partnership with Heavy Equipment Colleges of America focuses on learning five machines: the backhoe, excavator, front-end loader, dozier, and skid-steer.
Upon completion, inmates receive an Adaptable Equipment Proficiency Testing (ADEPT) certification.
The class is taught by two Walton County Sheriff's Office Vocational Instructors, Mark Simmons, and Tim Castiglione.
"They gave me the confidence to present myself and ask for a job," said Carroll. "Feeling good about myself is something I've never experienced."
He's been working for Moss, a nationwide, family-owned construction company running a skid-steer on a project in the north end of the county. The business was voted top 400 U.S. Contractors by ENR Magazine in 2020.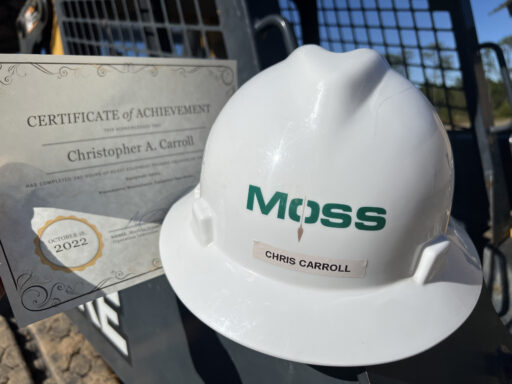 Before going to work for Moss, Carroll had become part of the cycle of incarceration he says started with his failure to pay a traffic citation.
"It snowballed and before I knew it, I was arrested for knowingly driving without a license," he said. "The third time, I ended up in here serving 180 days."
As fate would have it, the sentence was long enough for Carroll to qualify to be part of the Heavy Equipment class.
Now Chris' parents, Don and Sonia, are driving him to work six days a week where he operates the skid steer for Moss backfilling conduit. The job helps supports Carroll's two boys, ages 19 and 13.
"It gives them a chance to learn something new," said Sheriff Michael Adkinson. "The rest is up to them."
Wednesday the latest graduating class was honored in a small ceremony on the jail grounds surrounded by Jail staff and the equipment they learned to operate.
Carroll, who was released before the graduation, was in attendance in his new steel-toed boots.