SHERIFF'S POSSE CELEBRATES 10 YEARS IN WALTON COUNTY
Posted on May 21, 2020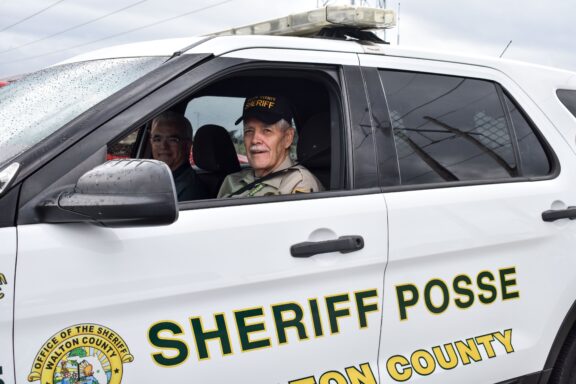 May 21, 2020
WALTON COUNTY, Fla— Imagine giving six years of your life to something – for free.
Walton County Sheriff's Office Posse is celebrating a decade in Walton County. Over those 10 years, the Posse has donated more than 55,000 hours of volunteer time to the agency.
That number equates to about 2,291 days and 16 hours. In another conversion, it's a little more than six years.
The 10 member unit tallied approximately 4,000 hours in 2019 contributing approximately $96,160 worth of value to Walton County in the way of public safety. That number is according to the latest Bureau Labor of Statistics data for Florida volunteer time value which is now rated at $24.04 per hour.
"The Posse provides an invaluable service to our community as a part of our family here at WCSO," said Sheriff Adkinson. "Their contribution to the men and women of this agency and to the public should be admired."
The first written account of the Walton County Sheriff's Posse was back in 1865. Although, the posse was surely in place earlier than that date.  The first written account of the "posse" was probably not sanctioned by then-Sheriff William McCollum, but it was organized under that name by its members.
Posse's beginnings were justice in a frontier fashion. Later, the numerous sheriffs who had little funds formed a legal "Posse" to hunt down outlaws. Their rough and tumble shoot-out stories can be found in, "History of the Walton County Posse", published by the Walton Sheriff's County Posse in co-operation with the Coastal Heritage Preservation Society (Coastal Branch Library in Santa Rosa Beach).
In May of 2010, Sheriff Mike Adkinson decided that with the explosion of Walton County from tourists to newly arriving families, it was time to re-form the historical Posse.
Since that time, WCSO Posse's main function is supporting the agency's public safety objectives and providing customer service. The citizen volunteer group is trained, uniformed, badged (in a non-sworn capacity), and required to perform 16 hours per month of volunteer hours in order to be covered for state requirements and insurance.
In 2020, the unit bumped its membership to 13 and is on track for another successful year.
To join or learn more about the Walton County Sheriff's Office Posse, click here.