SEARCH CONTINUES FOR MISSING DEFUNIAK SPRINGS MAN
Posted on August 3, 2018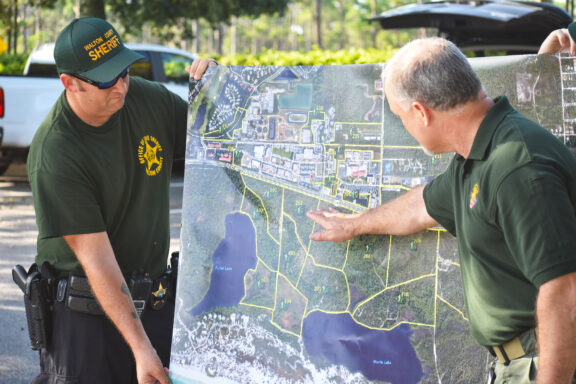 August 3, 2018
SANTA ROSA BEACH, Fla— Deputies and K9 teams are continuing a search this morning in Tops'l State Preserve in an effort to find a missing DeFuniak Springs man.
Scott Bradley, 45, last contacted family members over the weekend. His truck was later located by Walton County Sheriff's Office parked at Grand Boulevard near P.F. Chang's Restaurant.
"It is our hope that our search today produces some answers," said Sheriff Michael Adkinson. "We have a great team of folks out here to help aid in the effort."
At this time WCSO has reason to believe Bradley's health may be in danger.
SEARCH ONGOING: WCSO is conducting a search in the area of Tops'l State Preserve in an effort to located #MISSING DeFuniak Springs man, Scott Bradley, 45 YOA. @weartv @nwfdailynews @WMBBTV @WJHG_TV @WZEPAM1460 @WaltonSun @PollyDad #KlaasKids #30a pic.twitter.com/wqubufuUyr

— Walton Co. Sheriff (@WCSOFL) August 3, 2018
KlaasKids Foundation brought more than a half dozen search and rescue dogs to assist in Friday's search in the thick vegetation at Tops'l.  KlaasKids Foundation provides nationally recognizes SAR Teams to assist law enforcement agencies and communities with organized search efforts.
Anyone with information is asked to call the Walton County Sheriff's Office at (850)-892-8111 or email Investigator Donna Armstrong at [email protected].