RESIDENTIAL FIRE BREAKS OUT IN MOSSY HEAD; FIREFIGHTERS PUT OUT THE FLAMES WITHIN MINUTES
Posted on February 1, 2021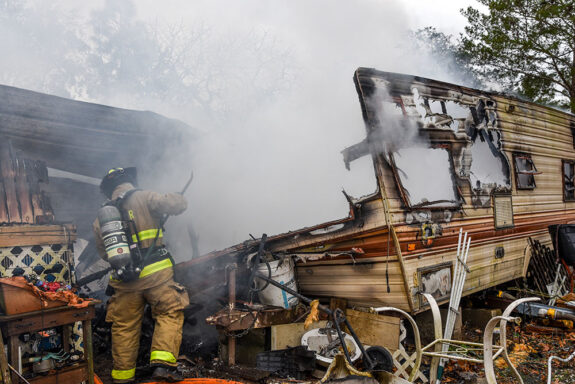 MOSSY HEAD, FL — Firefighters knock down a structure fire in Mossy Head after wind carries flames into two residential campers.
Around 10:15 a.m. on Monday, February 1, 2021, the Walton County Sheriff's Office communications center received 911 call from a Walton County resident who stated that a fire was consuming two campers on Woodlands Boulevard. Walton County Fire Rescue, Argyle Volunteer Fire Department, Liberty Volunteer Fire Department, and Walton County Sheriff's Office deputies were promptly dispatched to the scene. Walton County Fire Rescue crews were the first to arrive on scene and found smoke and flames coming from two residential campers parked next to each other.
WCSO deputies shut down the roadway while firefighters quickly began to extinguish the flames. WCFR firefighters had the blaze under control in only ten minutes.
Fortunately, the residents made it out of their homes unharmed, but their campers were severely damaged by the flames. So, the American Red Cross was contacted to provide aid to those affected by the fire.
The fire originated in a burn barrel on the porch of one of the campers. Because of heavy wind conditions, the flames quickly spread into the nearby campers.
Fire Chief Tracey Vause would like to remind everyone to avoid burning anything outdoors on unusually windy days as the wind can easily blow sparks into surrounding brush or structures. Never leave a fire unattended, and keep fires a safe distance away from homes, sheds, garages, and other structures.