POSTAL WORKER SPOTS BRUSH FIRE THAT SPREAD TO A NEARBY HOME; FIREFIGHTERS RUSH TO EXTINGUISH THE FLAMES
Posted on January 5, 2023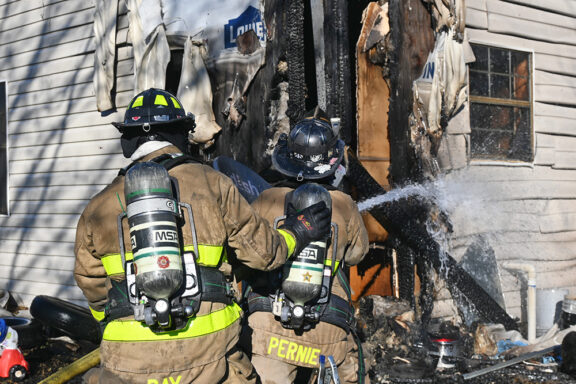 A mail carrier spots a large outside fire that had spread to a home in Paxton and calls for help.
At 2:34 PM on Thursday, January 5th, a United States Postal Service worker was delivering mail on North Suttles Road in Paxton when they noticed heavy smoke in the area. The postal worker immediately called 911 and stated there was an outside fire that had spread to a nearby single-story house and a vehicle that was parked in the yard. Walton County Sheriff's Office deputies arrived on scene and found the vehicle fully engulfed in flames and a small blaze starting to burn the back right corner of the home. Deputies also reported the fire spreading into nearby wooded area and threatening to jump the street where a mobile home was located.
Walton County Fire Rescue firefighters arrived on scene within minutes and quickly entered the burning structure to perform an initial search of the residence. Fortunately, no one was inside the home.
With tanker and brush truck support from Liberty Volunteer Fire District, Walton County Fire Rescue was able to knock down the flames before the fire could spread throughout the home. The back corner of the living room was the only area of the home that received major damage from the fire. Firefighters were also able to keep the outside fire that burned nearly ten acres of land from advancing to other houses nearby.
Florida Forestry Service responded to the scene to assist. The Fire Marshal's Office was contacted to investigate the cause of the fire.