PANAMA CITY MAN ARRESTED FOR SOLICITING A MINOR FOR SEX
Posted on May 10, 2019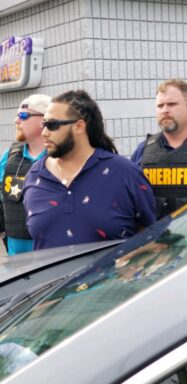 May 10, 2019
WALTON COUNTY, Fla— A 26-year-old man is arrested after soliciting who he thought was a 14-year-old girl for sex.
Between January 16th and May 10th, Christopher D'Angelo Jackson Jr., 26, engaged with an undercover officer through a social media account depicting a 14-year-old female.
During the exchange, which takes place primarily on a social media messaging application, Jackson gets increasingly sexual in nature and asks for nude pictures. Jackson also indicates through his chats he wants to have sex with the juvenile.
Jackson is charged with two counts of using a computer to solicit a child for sex, traveling to meet a minor for sex and using a two-way communication device to facilitate a felony. All four charges are felonies in the state of Florida.
Undercover investigators met Jackson in DeFuniak Springs after he drove from Panama City. He was arrested and booked into the Walton County Jail on Friday, May 10, 2019.