OPERATION "BLUE BIRD" SCHEDULED FOR START OF SCHOOL
Posted on August 5, 2019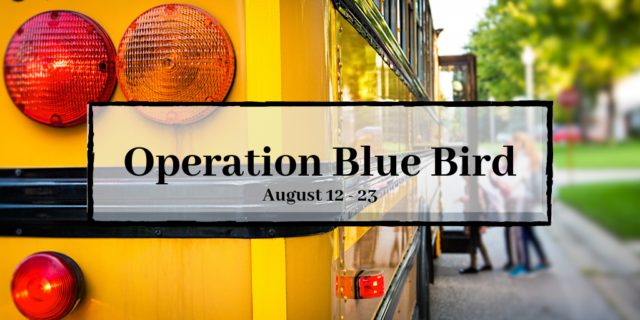 August 5, 2019
WALTON COUNTY, Fla— The start of a new school year is less than a week away and with that residents in Walton County can expect to see an uptick in traffic enforcement.
Walton County Sheriff's Office will be initiating Operation Blue Bird when classes begin in Walton County Monday, August 12. The effort will run for approximately two weeks with a focus on school zone safety.
During the operation deputies in marked and unmarked vehicles will be aggressively enforcing traffic violations including speeding in school zones, texting while driving, seatbelt/child seat violations, passing a school bus with stop sign activated, and any other observable traffic infraction.
In addition to traffic violations, digital traffic signs will be placed throughout the county to remind residents and visitors about the start of school and to slow down in school zones.
Members of the WCSO Posse will be posted on JD Miller Road for South Walton High School and on U.S. Highway 98 at Emerald Coast Middle School and Dune Lakes Elementary School to assist with traffic control.
"Our number one mission during this operation is keeping our children safe as they head back to school," said Sheriff Michael Adkinson. "Let's make this school year the safest yet."
Several agencies will be assisting in this effort including Florida Highway Patrol and DeFuniak Springs Police Department.