MOTHER AND DAUGHTER REUNITE WITH FIRST RESPONDERS WHO SAVED THEIR LIVES
Posted on May 7, 2018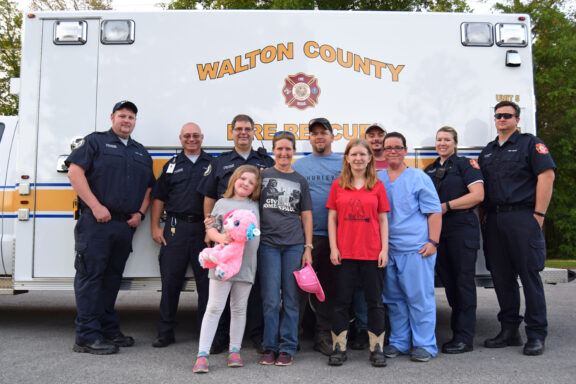 May 7, 2018
MOSSY HEAD, FLA. — On October 28, 2017, mother, Ivana Fore, and her eight year old daughter, Emma, were rushed to the hospital after a head on collision.
Just after 3:00 PM on Saturday, October 28, Walton County Fire Rescue crews responded to a traffic crash on Highway 90 West in Mossy Head following a frantic 911 call from witnesses. When paramedics and EMTs arrived on scene, they found Mrs. Fore in severe pain, trapped in the driver's seat and Emma unconscious on the passenger's side of the vehicle. A witness, Aaron Downing, was holding Emma's neck still until paramedics arrived to prevent further injuries. A second witness, Dana Downing, was talking to Mrs. Fore to try to keep her calm until help arrived.
Walton County Fire Rescue crews noticed that Emma showed signs of a possible brain injury and worked quickly to get her and her mother out of the vehicle. Paramedics Jasper Carter and Russell Hilligoss tended to the eight year old girl in the back of the ambulance as Walton County Sheriff's Office Deputy, Leo Cook, drove the ambulance to a local hospital. Mrs. Fore was treated by Paramedics Ronald Castleberry and David Hatfield for a broken femur while Firefighter-EMT Robin Grandstaff rushed the ambulance to a local hospital.
On Wednesday, May 2, 2018, after weeks in the hospital and months of physical therapy, Mrs. Fore and her daughter, Emma, got the chance to thank the EMTs and Paramedics who saved their lives.
"It was a difficult situation, seeing a child in that condition, but seeing her now and how far she's come and how well she's doing, brings us all overwhelming joy," said Paramedic Jasper Carter.
During their visit at Station 11 in Mossy Head, Ivana and Emma Fore were also reunited with the Downing family who cared for them and comforted them until first responders arrived.
"This kind of thing doesn't happen very often," says Fire Chief Russell Beaty. "Many times, paramedics and EMTs work on patients without ever really knowing what happens to them after they are transported to the hospital. Having the opportunity to reunite with patients who have gone through such a traumatic experience and seeing them happy and healthy is truly a blessing."