MAN WEARING WIG CASHES STOLEN CHECKS AFTER MULTIPLE SMASH AND GRABS
Posted on April 10, 2019
April 10, 2019
SANTA ROSA BEACH, Fla— Walton County Sheriff's Office is releasing photos of a subject believed to be involved in multiple "smash and grab" burglaries in three jurisdictions in the Florida Panhandle.
On Sunday, April 7th, three separate victims reported to Walton County Sheriff's Office their vehicle windows were broken by a window punch. The incidents occurred on J.D. Miller Road in Santa Rosa Beach.
In one instance, a diaper bag was stolen with the victim's driver license. In another, the victim reported a purse stolen that was left on the floorboard of the truck which contained a pistol and several credit cards. In the third incident, a Michael Kors purse was taken with personal checks, gift cards, and credit cards inside.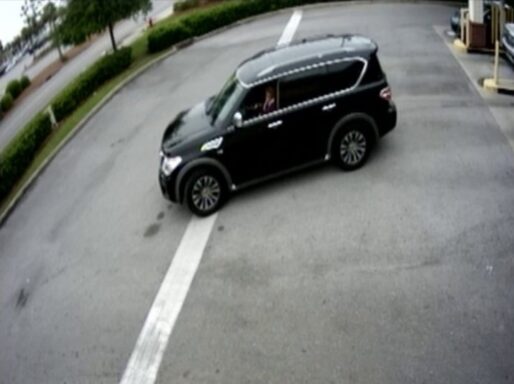 The following day, a man driving a black Nissan Armada attempted to cash one of the victim's checks at Regions Bank in Panama City Beach. The subject, observed in surveillance video as a white male wearing a wig and glasses, presented a stolen driver's license stolen from a smash and grab in Panama City at a park in their jurisdiction. The tag on the vehicle was stolen from a car in a parking lot in Panama City Beach.
Regions Bank employees questioned the man who fled before law enforcement's arrival.
Walton County Sheriff's Office is coordinating with detectives from Panama City Police Department and Panama City Beach Police Department.
Anyone with information is asked to contact Walton County Sheriff's Office at (850)-892-8111 or you can remain anonymous by calling Emerald Coast Crime Stoppers at (850) 863-TIPS. Submit a web tip at http://www.emeraldcoastcrimestoppers.com/ or send a mobile tip using the P3 Tips Mobile Application or the WCSO smartphone app available in Google Play or the Apple Store.
###