LANDFILL EMPLOYEES HELP SAVE WALTON COUNTY RESIDENT'S LIFE
Posted on March 11, 2019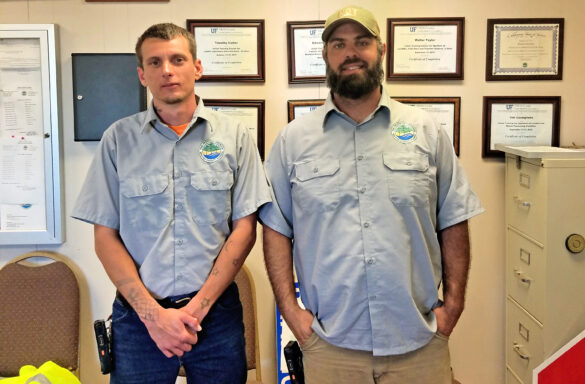 DEFUNIAK SPRINGS, Fla— A Walton County man may have lost his life on Tuesday if not for the quick action of local landfill employees.
During the afternoon of March 5, 2019, a Walton County resident was dropping off garbage at the landfill on Institute Road in DeFuniak Springs when he suddenly collapsed. Two Walton County Solid Waste employees, Tim Castiglione and Richie Price, quickly rushed to the man's side and began administering CPR. They dialed 911 and informed a Walton County Sheriff's Office communication officer that the man appeared to be in cardiac arrest.
The two employees continued to administer CPR until Walton County Fire Rescue EMTs and paramedics arrived. Once on scene, Walton County Fire Rescue crews quickly loaded the patient into the ambulance and began performing Advanced Cardiac Life Support resuscitation efforts as they rushed him to a local hospital.
"Call it divine intervention or call it a coincidence," says Sheriff Michael Adkinson, "but no matter what you believe in, I think we can all agree that these two men were in the right place at the right time."
The gentleman continues to recover from the incident at a local hospital.
"By their actions, Tim and Ritchie reflect great credit upon themselves and Walton County and they stand as an example to all of us," said Walton County Landfill Manager Billy McKee.  "This situation reminds us that emergencies can occur when and where we least expect it and those with training can make a lifesaving difference."
The Walton County Board of County Commissioners are proud of the quick and heroic action of Castiglione and Price, and as such are planning a special recognition of the two employees at the County BCC meeting that is scheduled for March 26th at 9:00 am in the DeFuniak Springs Courthouse Boardroom.