K9 DRAGO SNIFFS OUT COCAINE FOLLOWING TRAFFIC STOP; DEFUNIAK SPRINGS WOMAN ARRESTED FOR INTENT TO SELL
Posted on May 22, 2019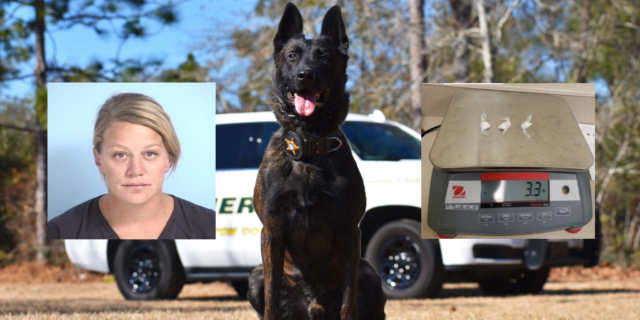 May 22, 2019
SANTA ROSA BEACH, Fla— WCSO K9 Drago marked another arrest under his belt Tuesday night.
The Dutch Shepherd was deployed following a traffic stop just before 7 pm along E County Highway 30a for illegal window tint. K9 Drago alerted to the vehicle and a subsequent search revealed 3.3 grams of powder cocaine separated into baggies weighing 1.1 grams each. This method of packaging is consistent with the sale of cocaine.
The suspect was identified as Carly McDonald who admitted to the deputy "I don't do cocaine, but it was given to me to give to someone."
McDonald was charged with possession of cocaine with intent to sell. She was arrested and booked into the Walton County Jail.