IN LAST TRIP TO NATIONALS BEFORE RETIREMENT WCSO K9 KAYNE BRINGS HOME BIG 2ND-PLACE FINISH
Posted on May 16, 2019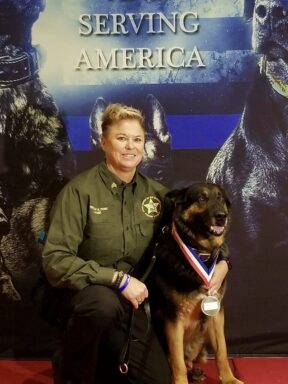 May 16, 2019
WALTON COUNTY, Fla— In his last trip to Nationals before retirement, Walton County Sheriff's Office K9 Kayne is bringing home a lion's share of accolades and awards.
The United States Police Canine Association National Detector Dog Field Trials were held May 5th – May 8th in Albany, New York.
Sergeant Kristin Pond and her K9 "Kayne" drove four days over 48 hours to get to Albany and back to Florida to participate.
K9 Kayne and Pond took second place with a perfect score of 100 in the Narcotics Outdoor Vehicle Search with a time of 1.48 missing a first place finish by just 20 seconds.
Only three canine teams out of the 51 competing received a perfect score in this event.
Both Pond and Kayne received a Certificate of Excellence showing Kayne as a Nationally Certified Narcotic Detection Dog.
K9 Kayne qualified to compete in the National Trials when by taking second-place overall at the Region 1 Trials hosted in Lakeland Florida in February of this year.
"I am so proud of K9 Kayne and all his accomplishments," said Pond.
K9 Kayne is officially set to retire when his replacement is trained and certified.