HIGH SCHOOL STUDENT ARRESTED FOR MAKING BOMB THREAT
Posted on May 25, 2023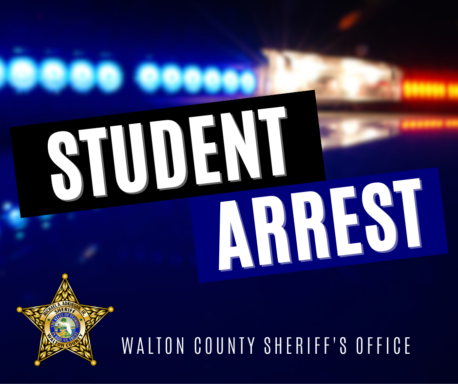 A Walton High School student has been arrested after making a bomb threat.
Shortly after 9:00 a.m. on May 25th, Walton County Sheriff's Office school resource deputies and Walton High School administration were made aware of a student claiming to have a bomb inside the school. Thyra Kimbrell, 16, stated she had a pipe bomb in her book bag in front of the class. When questioned by teachers, Kimbrell again uttered "I have a pipe bomb in my book bag."
The school resource deputy and administration staff were made aware and immediately removed the students from the classroom. The Walton County Sheriff's Office school resource deputy searched the student's backpack and classroom, but nothing was found.
Out of precaution, Walton County High School students were quickly evacuated from the building. Okaloosa County Sheriff's Office and Bay County Sheriff's Office Bomb Squads responded and conducted a thorough search of the campus before giving the all-clear.
During an interview with the Walton County Sheriff's Office, Kimbrell said she was "saying something from a video game."
Kimbrell was arrested and charged with false reporting of a bomb, a second-degree felony. She was booked into the Walton County Jail and then transported to the Department of Juvenile Justice in Crestview.
"Threats like these are not a joke and will always be taken seriously," says Sheriff Adkinson. "This is the second school threat that has led to a juvenile's arrest in less than a week. We will continue to do whatever is necessary to ensure students are safe. We encourage you to talk to your children about the ramifications associated with school threats and anything that jeopardizes the safety of our children and schools."
Superintendent A. Russell Hughes reiterated the comments of the Sherriff emphasizing, "We will always respond swiftly and strongly to protect the children of the Walton County School District. What happened today is not a joke, and we constantly remind students of the seriousness and consequences of school threats."  The Superintendent would like to thank all local law enforcement agencies for responding quickly and efficiently. He also appreciates the confidence parents provided today by allowing the collaborative system and agencies to work together for the continued safety of children.
Based on the lack of criminal history, the Walton County Sheriff's Office will not be publishing the student's mugshot.