FIREFIGHTERS BATTLE MASSIVE BLAZE CONSUMING GASKIN HOME
Posted on January 21, 2022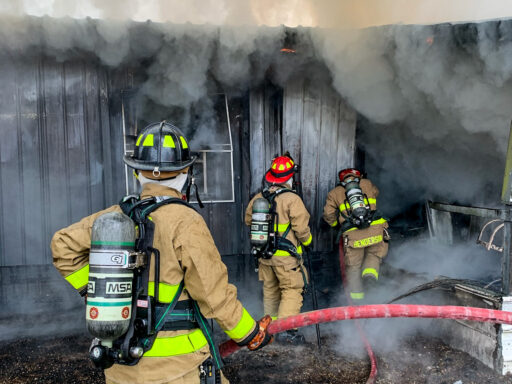 GASKIN, FL—A multi-agency attack leads to the knock down of a large residential fire in Gaskin.
At 9:37 a.m. on Friday, January 21, 2022, Walton County Fire Rescue, Argyle Volunteer Fire Department, and Liberty Volunteer Fire Department were dispatched to a home on Gill Road following a 911 call reporting a structure fire. The caller stated their neighbor ran to their house screaming that their house was on fire.
While en route, firefighters could see heavy smoke coming from the area where the call originated. Walton County Fire Rescue crews were the first to arrive on scene and found flames fully engulfing a single-story home. They quickly deployed attack lines and began to battle the blaze. Argyle and Liberty volunteer firefighters arrived shortly after and began assisting Walton County Fire Rescue in fighting the flames.
Ponce de Leon Volunteer Fire and Rescue and Pine Log Volunteer Fire Rescue were also called to the scene to assist in water supply.
First responders battled the massive fire for a little over two hours before the blaze was under control.
Fortunately, the residents made it out of the fire without injuries. The fire is believed to have originated in the home's wood-burning stove.
The American Red Cross was contacted to assist the residents of the disintegrated home.