FIRST RESPONDERS HELP DELIVER BABY IN LOCAL GAS STATION PARKING LOT
Posted on April 1, 2019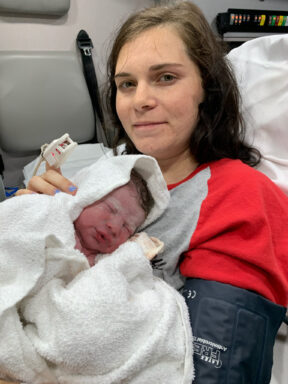 April 1, 2019
DEFUNIAK SPRINGS, Fla — Local first responders stepped in to help deliver a baby boy at a gas station parking lot in Freeport early Saturday morning.
At 2:35 AM on Saturday, March 30, 2019, the Walton County Sheriff's Office received a call about a mother who was going into labor. Walton County Fire Rescue EMS crews and Walton County Sheriff's Office deputies quickly responded to the Exxon gas station off of Highway 20 in Freeport.
Medics and deputies arrived on scene to find an expecting mother going into labor in the front seat of a vehicle parked at the convenience store. District Chief Austin Pugh quickly jumped into action and, with the help of WCFR Lieutenat Andrew Pyeatt and WCSO Sergeant Khaliqa Wheatley, began preparing the mother for childbirth.
"I realized we weren't going to have time to get the mother to a local hospital," says District Chief Austin Pugh. "So, I made sure she was comfortable and got ready."
At 2:45 AM, with a little help from first responders, the mother gave birth to a beautiful baby boy in the front seat of her mother's SUV.
"I'm so glad we were all there to help," said Pugh. "These are the calls you want to take home with you. The calls you will never forget. It was an unforgettable moment for all of us who were on scene."
Walton County Fire Rescue paramedics transported the mother and baby to a local hospital where both are in good health.