FIREFIGHTERS KNOCK DOWN FLAMES ENGULFING A RESIDENTIAL CAMPER IN MOSSY HEAD
Posted on March 3, 2020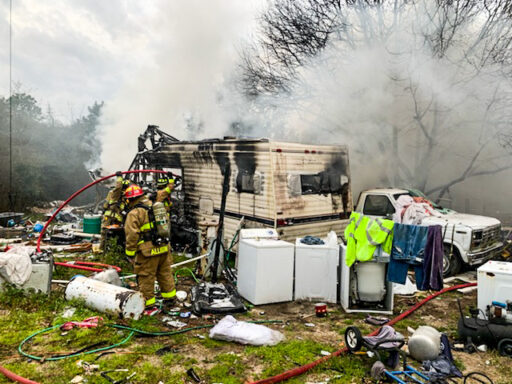 MOSSY HEAD, Fla — Firefighters rush to a residential area in Mossy Head following a call from a man stating his brother's fifth wheel camper was on fire.
At 4:54 PM on Monday, March 2, 2020, the Walton County Sheriff's Office communications center received 911 call from a man stating he could see smoke and flames coming from his brother's camper nearby. Walton County Fire Rescue, DeFuniak Springs Fire Department, Liberty Volunteer Fire Department, and Walton County Sheriff's Office deputies were promptly dispatched to the residence on Orange Avenue in Mossy Head, and upon arrival, found flames fully engulfing a fifth wheel travel trailer. Firefighters battled the blaze for approximately 30 minutes before having the fire under control.
Fortunately, no one was home at the time of the fire and no first responders were injured while fighting the flames.
The cause of the fire is unknown at this time.