FIREFIGHTERS KNOCK DOWN FIRE ENGULFING MOBILE HOME, SAVING NEARBY STRUCTURES
Posted on June 9, 2023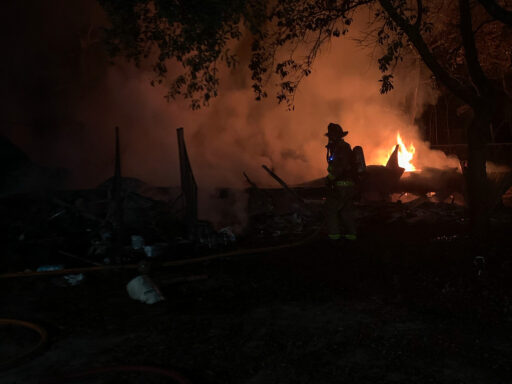 Firefighters knock down mobile home fire in the middle of the night, saving nearby homes.
At 2:13 AM this morning, Walton County Fire Rescue, North Bay Fire Control District, and Walton County Sheriff's Office, Florida responded to a home on Crestview Road in Villa Tasso following a 911 call reporting a structure fire. The caller stated they heard popping sounds and looked outside to see flames coming from a nearby home. It was unknown if anyone was inside the house.
Firefighters and deputies arrived moments later to find a single-wide mobile home fully engulfed in flames. WCSO deputies began evacuating nearby homes and Walton County Fire Rescue conducted an initial search for anyone who may still be inside the house. Fortunately, no one was found.
North Bay Fire District arrived shortly after and began assisting Walton County Fire Rescue in battling the blaze. Firefighters has the fire under control in about thirty minutes and were able to keep the flames from damaging nearby homes.
After the fire was knocked down, a secondary search was conducted inside the damaged home. Unfortunately, during this search, a dog was found deceased in the home.
The cause of the fire is unknown but is not believed to be suspicious in nature.
Walton County Fire Rescue would like to thank North Bay Fire District for their assistance.