FIREFIGHTERS KNOCK DOWN FIRE ENGULFING A HOME IN DEFUNIAK SPRINGS
Posted on April 5, 2022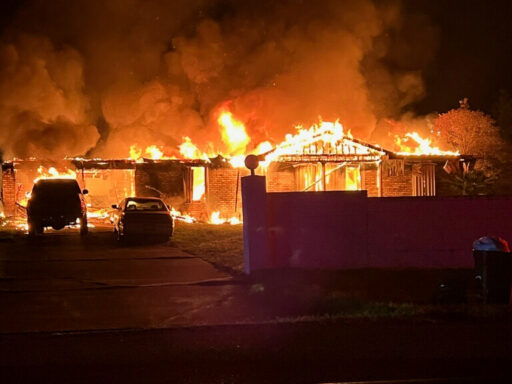 Firefighters rushed to a home in Ten Lake Estates after a neighbor reported seeing flames coming from a nearby residence late last night.
At 11:08 p.m. on Monday, April 4, 2022, Walton County firefighters were dispatched to a home on Ten Lakes Drive in DeFuniak Springs following a 911 call reporting a structure fire. The caller stated they could see smoke and flames coming from a home just down the street, and they were unsure if anyone was inside the residence.
Firefighters arrived on scene to find flames engulfing a single-story home. Walton County Fire Rescue firefighters quickly made entry into the home to search for anyone inside the structure. Fortunately, no one was home at the time of the fire. With assistance from DeFuniak Springs Fire Department, Argyle Volunteer Fire Department, and Liberty Volunteer Fire Department, Walton County Fire Rescue were able to extinguish the massive blaze in roughly thirty minutes.
At this time, it is unknown how the fire started. The State Fire Marshal's Office responded to the scene to investigate the cause of the fire.