FIRE PREVENTION WEEK: WCFR ENCOURAGES RESIDENTS TO "LOOK. LISTEN. LEARN."
Posted on October 7, 2018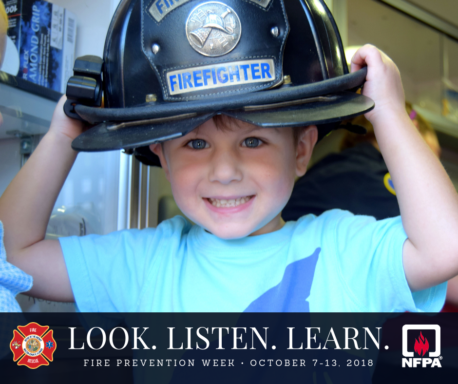 October 8, 2018
WALTON COUNTY, Fla – Today, home fires burn faster than ever. In a typical residential fire, you may have as little as one to two minutes to escape safely from the time the smoke alarm sounds.
Knowing how to use that time wisely takes planning and practice. That's why Walton County Fire Rescue is teaming up with the National Fire Protection Association (NFPA) ­‑‑ the official sponsor of Fire Prevention Week™ for more than 90 years ‑‑ to promote this year's Fire Prevention Week campaign, "Look. Listen. Learn. Be aware. Fire can happen anywhere™," in an attempt to educate students and the public about basic but essential ways to quickly and safely escape a house fire.
NFPA statistics show that the number of U.S. residential fires has been steadily declining over the past few decades. However, the death rate per 1000 home fires that are reported to fire departments was 10 percent higher in 2016 than in 1980.
"What this tells us is that although we've made significant progress in educating the public on fire prevention, we also need to be emphasizing the importance of escape planning and practice in the event of a house fire," says Fire Chief Russell Beaty.
This year's "Look. Listen. Learn." campaign highlights three steps people can take to help quickly and safely escape a fire:
Look for places fire could start.
Listen for the sound of the smoke alarm.
Learn 2 ways out of every room.
While NFPA and Walton County Fire Rescue are focusing on home fires, these fire safety messages apply to virtually anywhere.
This week, Walton County Fire Rescue will be visiting local schools to promote this year's Fire Prevention Week campaign, "Look. Listen. Learn."
Monday, October 8th: Paxton School @ 11:50 AM – Pre-K, K-5 & 1st Grade
Tuesday, October 9th: Sweetbay Montessori School @ 9:00 AM – Pre-K to 3rd Grade
Wednesday, October 10th: Mossy Head School @ 8:30 AM – Pre-K, K-5 & 1st Grade
Thursday, October 11th: Freeport Elementary School @ 8:30 AM – Pre-K, K-5 & 1st Grade
"Keeping the children in our community safe is our top priority," says Sheriff Michael Adkinson. "It's essential that young children know what to do in the event of a fire. That's why I'm sending our firefighters to some of our local schools this week to teach the students fire safety skills that could potentially save their lives."