FIRE BREAKS OUT IN BRUCE MOBILE HOME; WCFR KNOCKS DOWN SECOND STRUCTURE FIRE OF THE DAY
Posted on February 28, 2020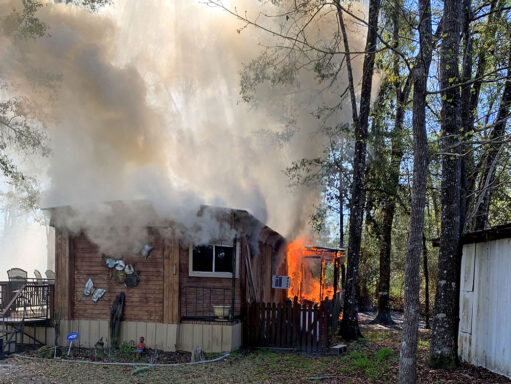 BRUCE, Fla — Walton County Fire Rescue responds to the second residential fire of the day after a neighbor reports seeing flames coming from a nearby mobile home.
At 9:18 AM on Friday, February 28, 2020, Walton County firefighters and Walton County Sheriff's Office deputies were promptly dispatched to a residence on County Highway 3280 in Bruce following a 911 call in reference to a structure fire. The caller stated they could see smoke and flames coming from the mobile home next door and they were unsure if anyone was inside. First responders rushed to the scene, and upon arriving at the residence, they saw flames consuming the back of a single wide mobile home. Firefighters quickly began to extinguish the flames and had the fire under control within minutes.
Fortunately, there was no one home at the time of the fire. Because the mobile home suffered significant damage during the blaze, the American Red Cross was contacted to provide aid to the residents of the damaged home.
The fire is believed to have been caused by an electrical issue in a Florida room that had been built onto the back of the mobile home.