FIRE BREAKS OUT AT DEFUNIAK SPRINGS DRY CLEANER; FIREFIGHTERS RUSH TO BATTLE THE BLAZE
Posted on September 1, 2021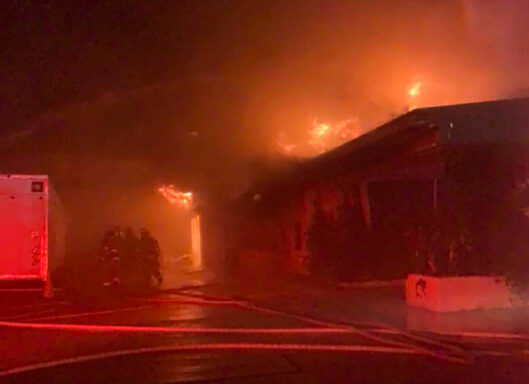 DeFuniak Springs, FL — Firefighters rush to battle a blaze that broke out at a dry cleaning business in DeFuniak Springs overnight.
Around 12:00 a.m. on Wednesday, September 1st, DeFuniak Springs Fire Department, Walton County Fire Rescue, and Argyle Volunteer Fire Department were dispatched to a commercial structure fire at Miracle Dry Cleaners on Highway 90 E in DeFuniak Springs. First responders arrived on scene to find flames and heavy smoke barreling from the commercial building.
Firefighters were able to keep the massive blaze from spreading to neighboring businesses using a defensive attack. Walton County Fire Rescue Tower 2 was used to rain down water to control the fire, allowing firefighters to make entry into the building and extinguish the flames.
Fortunately, no one was injured in the fire.
The State Fire Marshal's Office was called to the scene. The fire is currently under investigation.