DOG FOUND WITH CARABINER THROUGH ITS NECK; WCSO SEARCHING FOR OWNER
Posted on August 17, 2018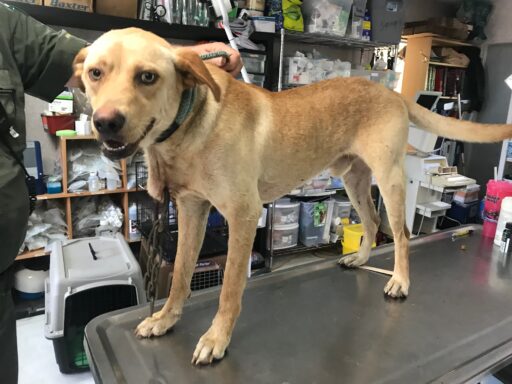 August 17, 2018
DEFUNIAK SPRINGS, Fla— Walton County Sheriff's Office is asking for the public's help in locating the owner of a dog found with a carabiner pierced through its neck.
July 19th, Walton County Animal Control responded to a call for an injured dog that was discovered by a resident on Dogwood Road. The caller noticed the dog under his trailer but said the dog would growl when he tried to approach it.
When Animal Control Officers arrived they noticed the dog, a yellow lab, with a carabiner through the skin on its neck and a chain hanging from it.
The dog was immediately brought to Alaqua Animal Refuge where Dr. Amy Williams sedated and removed the carabiner and cleaned the wound. The dog has stayed at Alaqua Animal Refuge during its recovery and has been nicknamed "Woodrow".
Walton County Sheriff's Office has surveyed the neighborhood and attempted to locate Woodrow's owner. After exhausting all possible leads, WCSO is asking for the public's help in identifying the person responsible.
"In releasing the photo of the dog's injuries, we are hoping a someone will come forward with information," said Sheriff Michael Adkinson. "These injuries did not happen by accident."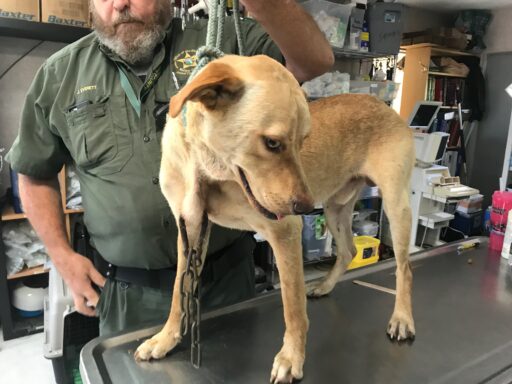 In addition, Alaqua Animal Refuge is offering a $500.00 reward to anyone with information that could lead to an arrest.
Anyone with information is asked to call the Walton County Sheriff's Office at (850) 892-8186 or you can remain anonymous by calling Emerald Coast Crime Stoppers at (850) 863-TIPS. Submit a web tip at http://www.emeraldcoastcrimestoppers.com/ or send a mobile tip using the P3 Tips Mobile Application or the Walton County Sheriff's Office smartphone app. You could be eligible for a cash reward.