DEPUTY COMES ACROSS 12-YEAR-OLD MOWING YARDS FOR HIS NEIGHBOR… THEN DOES THIS
Posted on July 26, 2018
It's hot outside. Uncomfortably hot.
While most of us are inside chillin' in the air conditioning,  12-year-old Tristan has spent the summer mowing grass and doing lawn care trying to earn some cash. You've probably seen him hard at work if you've been in the Mack Bayou area.
It's not what we'd call fun in the sun, but it's putting some green in his jeans if you know what we're saying. Tristan bought all of his own equipment to start his biz and helps the neighbors out when he can. Did we mention he's only 12? Pretty cool, right?
Walton County Sheriff's Deputy Wesley Barnhill had the pleasure of meeting Tristan while working a call for service. We thought that was cool enough. But, Deputy Barnhill was so impressed with the young man he helped him out by buying him this handy dandy pressure washer.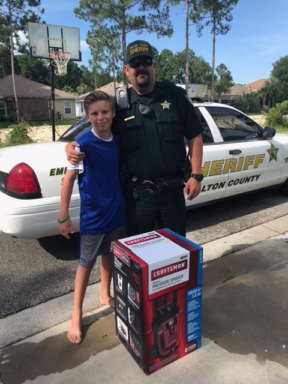 (Shh, Deputy Barnhill doesn't know that we know about his good deed. But, we're sneaky like that.)
We hope this makes your Thursday a little brighter. It sure worked for us!
Remember, if you're out working in the sun to stay hydrated, wear sunscreen, and call us if you need us! We'll be there!