DEPARTMENT OF HEALTH CONFIRMS 15TH POSITIVE COVID-19 CASE IN WALTON COUNTY
Posted on March 30, 2020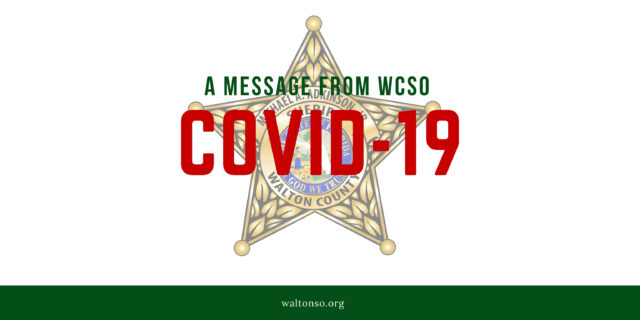 Florida Department of Health (DOH) in Walton County has announced an additional positive case of COVID-19 in Walton County.
The latest case is a 72-year-old female who is confirmed as a Florida resident. However, as of this morning, the city of residency has not been released.
Walton County Sheriff's Office would like to continue to encourage residents to stay home as much as possible and follow the DOH, CDC, and WHO guidelines as far as protecting yourself:
-Keep 6-foot distance from others↔️
-Disinfect surfaces frequently?
-Wash/rub your ?
-Avoid touching your ???
The World Health Organization (WHO) is not using the term "social distancing." They're now calling it "physical distancing."
On the topic, WHO Epidemiologist Maria Van Kerkhove said, "and that's on purpose because we want people to still remain connected."
We want you to stay in touch with those you love. Engage with each other and stay social, just do it from a distance. We're here if you need us.