DEDICATED TO PUBLIC SAFETY – WALTON COUNTY FIRE RESCUE WELCOMES FIRST EVER EMS CHIEF
Posted on July 24, 2018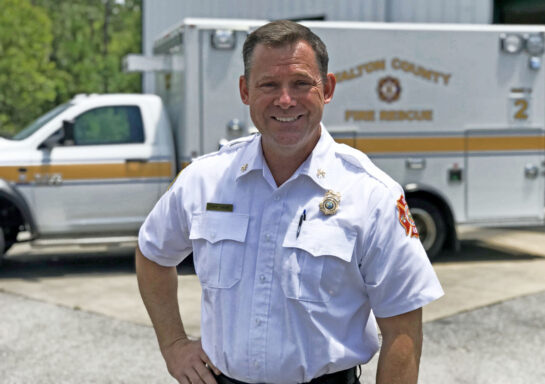 July 24, 2018
Walton County, FL – Walton County Fire Rescue, the primary provider of Advanced Life Support (ALS) and Emergency Medical Services (EMS) north of Choctawhatchee Bay in Walton County, is proud to announce Chief Tracey Vause as the department's first Emergency Medical Services Chief.
Chief Vause, 46, is a career public safety professional and organizational strategist who has served the Florida panhandle since 1989. Over the years, he has served in a wide range of roles from junior volunteer firefighter in Bay County in the 1980's to serving as Chief of Emergency Medical Services in Okaloosa County, Chairman of Emerald Coast Healthcare Coalition, Chief of Okaloosa County Beach Safety, Vice-President of the Florida Beach Patrol Chief's Association, Board Director for the Florida Association of County EMS and more. Chief Vause is a certified paramedic in the state of Florida, a certified ambulance compliance officer, an experienced Homeland Security Exercise and Evaluation Planner, and formally trained in incident command as an Operations Section Chief, Liaison Officer, and Incident Commander for extended disaster incidents. He holds a master's degree in public administration and public management from Troy University and is a Certified Public Manager at the Florida Center for Public Management CPM program at Florida State University.
"We are excited to welcome Chief Vause to the Walton County Fire Rescue family," says Sheriff Michael Adkinson. "He is a true representation of what we had in mind for the EMS Chief role. Chief Vause is extremely knowledgeable and passionate about public safety and emergency medical service, and we are proud to have him as a member of our team."
As the first EMS Chief for Walton County Fire Rescue, Chief Tracey Vause will focus on creating an accredited EMS program that will not only improve overall performance but prepare WCFR employees to become leaders within their organization.