YOUNG BOY REUNITES WITH FIRST RESPONDERS WHO SAVED HIS LIFE
Posted on July 14, 2023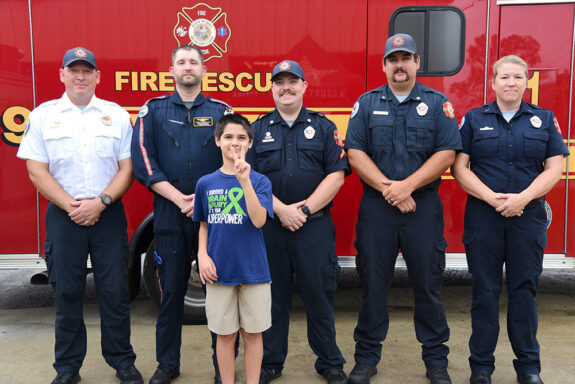 Almost a year after nearly losing his life from being struck in the head by a large post, Landon Moye is reunited with the first responders who saved his life.
On August 4, 2022, Landon lost consciousness when he was struck in the head by a nine-foot wooden post made from the trunk of a pine tree. When Walton County Fire Rescue crews arrived on scene, the ten-year-old was covered in blood and barely breathing. Firefighter-paramedic Christian Bay, Firefighter-EMT Austin Medley, and Lieutenant Robin Grandstaff quickly loaded Landon into the back of the ambulance and began life-saving measures. Landon was transported to a landing zone where he was flown by Okaloosa Medflight, part of Air Methods, to a local hospital for his life-threatening injuries.
"The teamwork between Okaloosa MedFlight and Walton County Fire Rescue has always been second to none, and we were only on the scene for a total of 11 minutes from the time we landed to the time we lifted for Sacred Heart Hospital," said Caleb Eiriksson, flight paramedic with Okaloosa MedFlight. "Flight Nurse Leighanne Skiles and Pilot Aaron Brown were phenomenal, and all parties worked very rapidly to get Landon to the pediatric trauma center. The air transport time was 28 minutes versus the 70 plus minutes that it would have taken by ground. I believe that if it wasn't for the short on-scene time and rapid air transport, Landon might not be with us today."
Suffering from a traumatic brain injury, Landon spent over three months in various hospitals and rehabilitation facilities relearning how to walk, talk, eat, and even dress himself.
Today, Landon was able to celebrate his miraculous recovery with the first responders who helped save his life.
"Landon is a walking miracle," said Firefighter-Paramedic Christian Bay. "There were times that day when I genuinely thought he wasn't going to make it. So, seeing him now and seeing how far he's come, I'm overjoyed. It's a moment I'll never forget."
Landon continues with outpatient speech therapy, physical therapy, and occupational therapy. Fortunately, his mobility issues haven't stopped him from relearning how to play chess, enjoy music, solve algebraic problems, and get back to enjoying life as a happy, healthy 11-year-old.