WALTON COUNTY SHERIFF'S OFFICE STATEMENT REGARDING COVID-19
Posted on March 17, 2020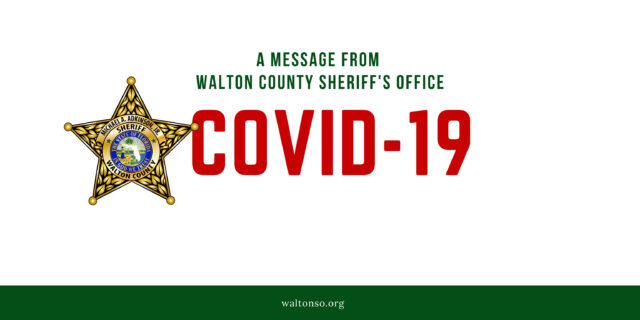 We are in unprecedented times. While continuing to serve the residents and visitors of our county, Walton County Sheriff's Office has heard your concerns and we are listening.
In the spirit of transparency and our commitment to maintaining a currency of trust with the public, we want to take this time to address you, our constituents.
Although formal confirmed tests results are pending, Walton County Sheriff's Office is aware of possible exposures to COVID-19 in our community. We are constantly monitoring this situation and putting necessary protocols in place to protect those who are awaiting test results and our first responders who continue to provide a service to our county. Plans include providing our employees with proper protection and procedures when answering calls for service and operating a COVID-19 specific apparatus to emphasize care and reduce exposure for patients and EMT's.
While we recognize there has not been a confirmed case of COVID-19 in our community, the possibility that may change is very real.
That is why, following the Governor's most recent General Order regarding bar closures, limiting beach gatherings, and restaurant restrictions we will be working together with local businesses to put those practices in place. We applaud those communities and industries who have already implemented CDC recommendations and encourage those who have not to prepare a plan of action to adopt the guidance in place.
Members of our agency are meeting daily in order to keep up with the ever-changing information regarding COVID-19. We would be remiss if we did not inform the public of our knowledge of possible cases in our community and emphasize, once more, the importance of protecting yourself, your loved ones, and each other during this time.
The Walton County Sheriff's Office will continue to lead from a position of strength, not fear. Our decisions and actions will be based on the available facts. Our preparedness and response activities rely on our community's support. We are all in this together.
Sheriff Adkinson will be issuing a live statement on Facebook at 3:30 pm today. We are taking note of your questions and concerns and will address them during that time.