WALTON COUNTY SHERIFF'S OFFICE PREPARES FOR TEMPORARY ER CLOSURE AT HEALTHMARK; NEW AMBULANCE IN SERVICE
Posted on March 8, 2022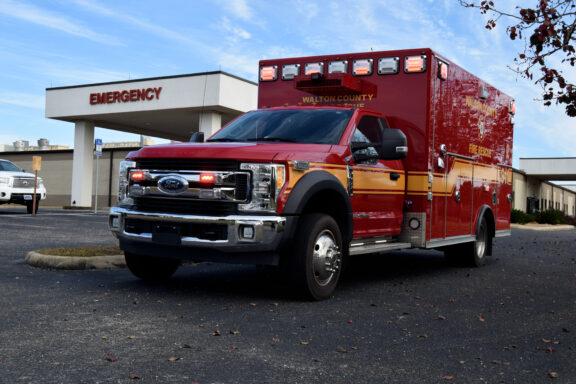 March 8, 2022
WALTON COUNTY, Fla— Healthmark Regional Medical Center has recently expressed to our agency they will be temporarily closing their emergency room at the facility for an unknown length of time in the near future.
Walton County Sheriff's Office is preparing for the closure and discussed the matter with the Walton County Board of County Commissioners.
"This is a very serious concern for us," said Sheriff Michael Adkinson addressing the Board at their meeting Tuesday. "This will greatly affect transport times and the availability of ambulance services in the county."
To plan for this closure, Walton County Fire Rescue added a seventh ambulance to our service area Sunday. The apparatus is staffed with one EMT and one Paramedic with advanced life support capability.
"We're looking to get an eighth ambulance that will run as staffing allows," added Adkinson.
Our agency has reached out to area hospitals to make them aware and help them in the transition and prepare them for the increased volume that will be redirected from Healthmark.
"We want to ensure residents the excellent quality of care they receive through Walton County Fire Rescue emergency medical services will continue as we adjust to these changes," said Adkinson. "As we anticipate the increase in call volume and transport times, our staff is committed to doing everything in our power to make sure residents and visitors are informed of this change and those in our community receive the emergency care they need."
Sheriff Adkinson, the Board of County Commissioners, and representatives from Healthmark plan to meet before the week's end to discuss how to decrease the length of time ER services will be suspended.
Walton County Fire Rescue is a CAAS Accredited EMS Service providing pre-hospital care to residents and visitors of Walton County north of the Choctawhatchee Bay. WCFR has been under the Sheriff's Office tutelage since April of 2017.